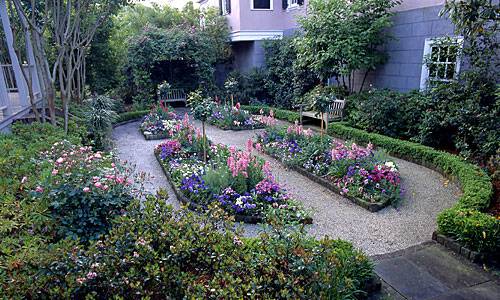 While many want to enjoy the benefits of a garden, the regular maintenance and grooming required can often be an unwelcome uphill battle. To combat this common problem, we recommend a low-maintenance perennial garden. 
So, why are perennials such a perfect choice for a flower garden? I love how they return each year to deliver healthy doses of color and texture. Some perennials will even bloom in the winter. Also, the multiple possible color combinations allow you to activate your imagination and look at landscaping in a new, creative way.   
How to Build the Perfect Perennial Flower Garden
The best piece of advice I can give when designing your new garden is to start small. The best way to display your perennials is in plant clumps of at least three to five plants of your favorite, most coveted species. Growing perennials together is the most practical option — it allows for easy planting, soil preparation, and care.
To create a manageable sweep, plan one that is between five and eight feet deep and twenty feet long. To define the boundaries of your garden, boxwoods or other evergreens anchor the ends and provide great edge definition. Taller-growing plants should be positioned in the back, or even at the center of an island bed, with the lower-growing plants centered in front or around the larger ones. 
Nature likes to keep things interesting, so don't be afraid to play along! I love Lychnis varieties, Stick Verbena, and Queen Anne's Lace popping up in my beds. The variety is visually appealing and keeps the eye moving. Color blending your garden works well if you follow the color wheel and place complementary colors next to each other. For example, a splash of yellow is a stunning addition to a garden filled with reds and lavenders. Lighter flowers really make nearby dark flowers pop. When you choose perennials, look for full and colorful foliage with new growth appearing. 
Do you feel inspired to add a perennial garden to your landscape? Browse through our photos for inspiration, and when you're ready, contact us at Dargan Landscape Architects to schedule a consultation.