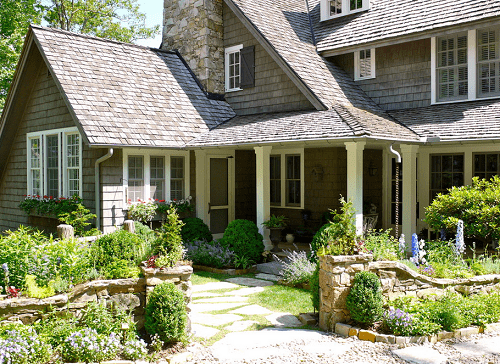 Location, location, location. It's the single-most important factor in real estate, not only because of proximity to work, schools and other requisites, but because of the natural views and surroundings. What many do not consider, however, that location can be a pretense. With the right landscaping, you can build in your own views to enjoy from inside and outside your home.
Landscapes can be designed with fantastic focal points and gorgeous features that not only catch the eye and add interest, but create naturally beautiful views and vistas. Are your landscape views lackluster? Here are some great things to consider as you start thinking of how your landscape might benefit from a new design with built-in backdrops:
Walk out to the street or edge of your property. How well does the landscape reinforce your house? Walk around to take in each vista or long view from the front, back and side. Imagine what plantings and structures could improve each vista as it blends the home into the natural surroundings.
Go through each of the main rooms of your home and look out the windows. Picture how a vista might be framed by a design element that draws the eye to it.
Take a look at your neighbor's landscape, and see how you might be able to borrow a view by carefully incorporating it into your landscape's backdrop.
Choose a view from a window or outdoor room that could potentially benefit from a sculptural piece or garden ornament.
Could a wall or fence add privacy while blocking unsavory sights? Picture your wall or fence dripping with elegant climbing plants.
Take lots of pictures as you survey your property and its views and vistas. These will come in handy as you dig into the first phase of the design process. A great trick is to overlay photos with tracing paper depicting sketches of possible new plans to visualize, experiment and play with different options as you discover what will work and look best.
Need a little professional help to amp up your views and vistas? Dargan Landscape Architects can help you create and implement a brand new, custom design with stunning views. Contact us to learn more.