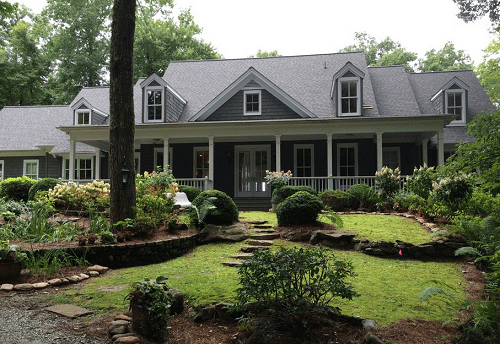 A well-designed landscape complements the home while blending it into the natural surroundings. The best way to ensure a landscape design that enhances property value is to take cues from the home's architectural style.
Each architectural style is associated with building materials that can become the foundation for a fantastic landscape design. Whether it's a combination of brick and wood or fieldstone and stucco, the colors and textures of building materials can help to harmonize the home with the landscape to create a naturally beautiful and cohesive design. These materials can specifically be used for freestanding walls and paved areas, creating a direct connection between the home and landscape.
Here are some other questions that can help to jumpstart a landscape design based on the home's architectural style:
What are the dominant hues of the home and building materials?
What is the size and mass of your home? Is it a little architectural gem, cottage/bungalow, mini-mansion, or mega-mansion?
What is your home's relationship to the ground plane?
Taking cues from architecture goes far beyond materials. Scale, for instance, is determined by the home's size and is paramount in designing terraces, parking courts, foundation plantings, and other improvements.
Foundation plantings, such as ivy and boxwoods, are a popular design element for anchoring and merging the home into the rest of the landscape. Before drainage solutions like gutters, paving ran right up to the edges of homes, and architects like Andrea Palladio – a sixteenth century Italian architect – mastered the art of stand-alone home designs. Now, landscape designs can incorporate foundation plants that not only ground and balance the home, but add to its attractiveness.
In the past, consistent architecture and limited planting options made integrating homes rather self-explanatory. Today, however, with the melding of architectural styles and the variety of plants available, knowing how to create a planting scheme that will marry with the landscape, scale, and style of the home is paramount.
For larger homes and mansions, large-scale shrubs and shade trees can bring it down in scale to connect it with the landscape. When designing for cottages and little architectural gems, go for plants that create an intimate and personal atmosphere. Historic homes and old photographs can be great inspiration for planting schemes.
Dargan Landscape Architects would love to help bring your home to life with a landscape design that highlights its best architectural features. Contact us to learn more.