Are you struggling to bring camellias into your landscape design? On Monday, Nov. 10, Mary Palmer Dargan would like to invite you to a lecture titled, "Camellias Dazzle your Landscape Design with Flowers, Form and Structure." Presented by Mary Palmer herself, this lecture will be held at the North Georgia Camellia Society, which meets at the Atlanta Botanical Gardens in Atlanta, Ga on the second Monday of each month.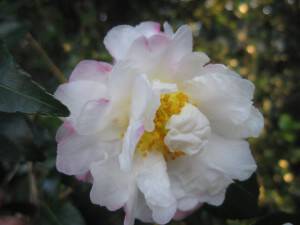 As a licensed and storied landscape architect and designer, Mary Palmer will share her knowledge with you about creating idyllic garden designs featuring camellias. Due to the vast variety, size, color and multi-season blooming capabilities of this versatile flowering plant, understanding the important concepts in Mary's lecture will help inspire your creative endeavors. Mary will also share some of her tips and tricks on how best to work with camellias.
Members of the non-profit North Georgia Camellia Society meet on the second Monday of every month from September through April at the Atlanta Botanical Gardens. They share their passion for camellias, as well as their ideas for grafting, planting and maintaining these beautiful plants.
As low-maintenance shrubs, camellias can easily be incorporated into garden designs as a privacy screen or even a shrub border. Although the appropriate spot for planting is critical to their growth success, camellias are a hardy shrub and can grow as tall as 12 feet.  And according to the U.S. Department of Agriculture, they thrive best in hardiness zones seven through nine.
Come join Mary Palmer Dargan on Nov. 10 and learn more about this incredible flowering shrub. To learn more about Mary Palmer and Dargan Landscape Architects, we invite you to browse around our website, or contact us to discuss the design and development of your idyllic garden.