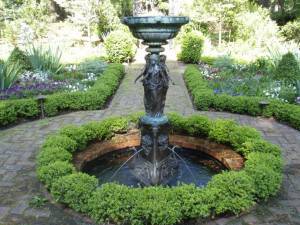 There's a reason why water features have been included in gardens and dwellings for centuries. In early Pompeian, Greek and Roman times, water features were considered a necessity for pleasurable living. We know this not only because of actual remains but because of depictions on frescoed walls. Today, the most popular ways to incorporate water into your landscape are with a fountain, stream or waterfall feature.
Archaeology findings have revealed the lavish designs of ornamental fountains in early Pompeian gardens and European estates. These magnificent fountains served as both a glamorous status symbol as well as a therapeutic tool for healthier, happier lives. Today, the design possibilities with fountains are endless, and they can be customized to suit your personal aesthetic and lifestyle.
If you are going with a stand-alone fountain design, the considerations you would need to make would be related to height and position within your landscape. It can include a low retaining wall that provides seating or it can be flush with grade. When choosing materials, you can take cues from your home's style and architecture. If you are looking for your fountain to be bursting with greenery, just remember that there should be 70 percent water surface coverage above or below. Use plants with a diversity of heights to create a beautiful frame for the fountain.
If you are looking for more of an auditory experience with your water feature, consider a waterfall that cascades into a stream and collects in a serene pond. You'll want to work with a professional who understands how to design a waterfall that will produce the most pleasing sounds. With a series of falls, consider installing separate pumps for each waterfall for easier management and repair. One piece of equipment we recommend for your waterfall is a sump pump because it is so reliable and durable as well as incredibly versatile and rather inexpensive. These can be used to create a good, strong flow for your waterfall as well as a babbling brook in a stream.
An existing slope can be the perfect place for a waterfall. Make sure you are working with a designer who is thoughtful about making it look natural rather than man-made. Surround the waterfall with wetland plants like mosses, and add beautiful blooming plants like water lilies to ponds. You can also look into native varieties of plants such as milkweed, which will provide beautiful coloration with cascading flowers during the growing seasons.
We invite you to watch our video on water features which includes a wonderful talk from a waterfall design expert. Contact Dargan Landscape Architects to see how we can help you design and install your own custom fountain or waterfall.