Who hasn't envisioned bringing the romance of a sidewalk cafe in Paris to their own backyard? All you need is a bistro table, chairs and a courtyard, terrace or side garden to recreate the scene. Add a cup of coffee, springtime breezes and blooming flowers, and you have the makings of the perfect little retreat within your landscape.
We like placing little retreats such as these in our landscape design projects because they expand our client's outdoor living spaces and offer a perch for admiring the yard and perhaps enjoying a quick breakfast or drinks with friends. Bistro sets are great for this purpose because they are smaller, making them easy to incorporate into an otherwise empty corner, creating a cozy, intimate spot for conversations. 
Take a look at a few of the ways we have incorporated bistro sets into past projects: 
A large courtyard is broken up into smaller seating areas, including bistro tables and chairs to suit any occasion, from a quick coffee break to happy hour with friends. The simplicity of the furniture keeps the focus on the surrounding landscape and highlights the beautiful paver patio underfoot.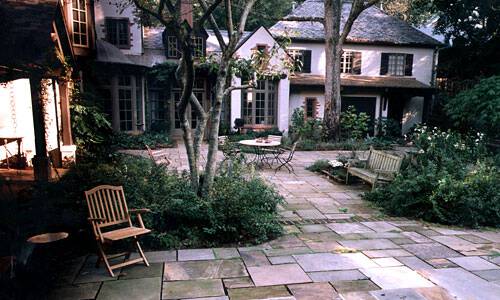 What could have been a forgotten outdoor space is now a destination in the landscape thanks to the seating area created in this side garden using a chaise lounge and a bistro table and chairs. The pathway leading to the seating area emphasizes the seating arrangement, as does the paver patio that serves as a foundation. What's more, the table is right outside an entrance into the home, giving owners easy access to the lush hideaway.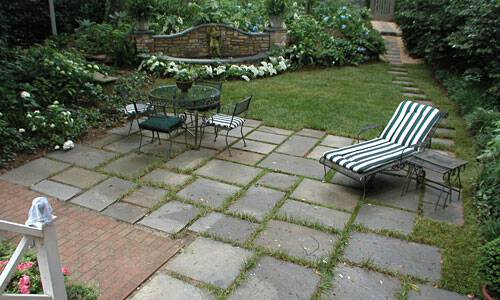 If you don't have a courtyard on your property, you can still incorporate a bistro-style setting into a smaller space. Notice that this small terrace, measuring six feet by six feet, is all that's needed for creating a cozy outdoor dining area for two. The terrace is floored with crab orchard stone in pink hues and a black wrought iron fence is complemented by a black wrought iron bistro set topped with pink cushions, offering a stunning seating for two.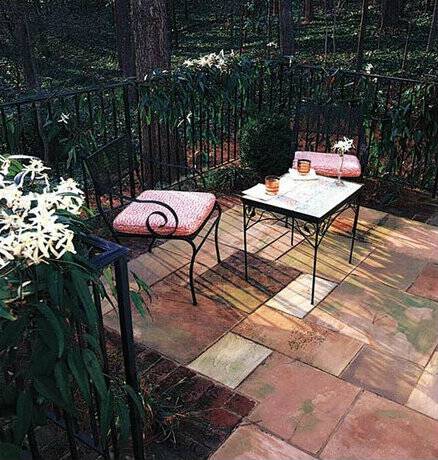 A gorgeous brick patio and side garden are the perfect location in this cozy courtyard for a bistro table and chairs in high-contrast white. The seating provides a place for visitors to enjoy the greenery, as well as an afternoon tea and chat.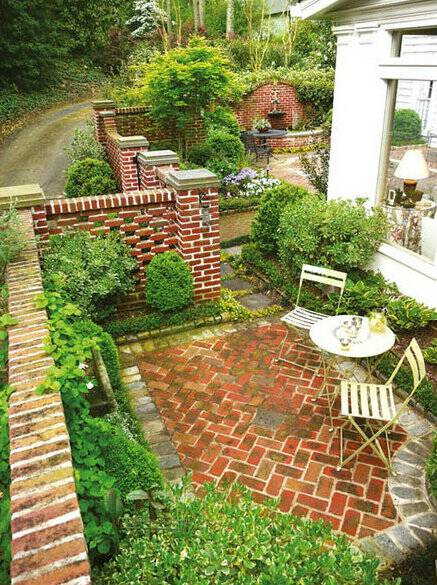 Are you ready to update your landscape with a beautiful courtyard, terrace or patio? Contact Dargan Landscape Architects to schedule a consultation. We would love to help you achieve the outdoor environment you've always wanted. We can help you find the look that best suits your property, right down to the furniture! For many years we've been designing custom seating elements. These custom solutions ensure you get the perfect piece, created with your space, style and other considerations in mind. In addition, our Talbot and Walden line of outdoor furniture is available from Kenneth Lynch & Sons in Connecticut.