Recently, we began a discussion on the landscape design process that we follow here at Dargan Landscape Architects. Our landscape design process consists of 12 steps that are intended to help homeowners achieve a beautiful landscape through meticulous planning. Our previous discussion covered the first six steps in the process, which include making a survey; developing a base plan; taking an inventory of the site; analyzing the site; developing a program wish list; and creating a functional diagram. Let's continue the discussion today with a look at the final six steps of our landscape design process.
7. Develop a concept diagram. The concept diagram plays off of the functional diagram, putting more details and ideas into the vision for your landscape design.
8. Sketch alternative plans. You may discover through creating your diagrams that some ideas you had hoped for your new landscape won't be ideal based on site conditions, space and other factors. A sketch of alternative plans gives you a "plan B" to fall back on.
9. Verify field conditions. Verifying your field conditions is a way to test your landscape design on the site before your plan and drawings are finalized. This can be done by taking measurements of the space you're working in and marking it accordingly. By verifying the field conditions you'll avoid costly construction mistakes.
10. Create a master landscape plan. The master plan shows the locations of the project and boundaries of the area to be designed. It also includes features to be built like walkways, buildings and other structures, as well as flower beds, focal points and more. Your master plan should include the approach and arrival sequence, hub, perimeter and passages to destinations.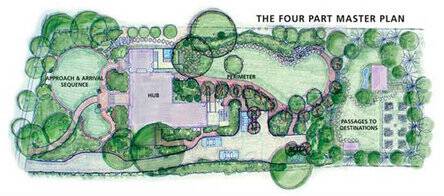 11. Make implementation drawings. Making implementation drawings is one of the final parts of the landscape design process. These final drawings will guide the contractors and designers that will build and install your new landscape. 
12. Get it built! Now it's time to get started on your property's new look. Once you've signed an agreement with your contractor and set the date, construction can begin.
For more information on our landscape design process, purchase a copy of Mary Palmer Dargan's book, Timeless Landscape Design. If you would like to discuss a master plan or a tune-up for your property, contact Dargan Landscape Architects for more information.