We're celebrating 40 years in landscape design!  Join us for a special garden design event in Charleston, SC…Come take YOUR garden to school!
The Principles of Design (continued) :  #3.  Symmetry and Asymmetry & #4  Repetition and Rhythm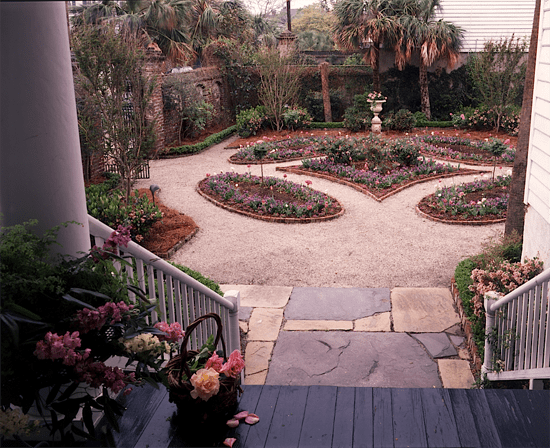 3. Symmetry and Asymmetry. Chaos and order. Be it a house or landscape under construction, chaos results. Even the most ordered man-made landscape in picturesque or formal style goes through a learning curve involving earth moving and revegetation. A master landscape plan helps navigate the rough road to perfection. Look to Mother Nature for clues involving environmental concerns to make the ultimate landscape ordered by both man and natural processes.
In landscape design, symmetry refers to a method of placing shapes of equal volume, size or form on either side of a central point or along an axis. What is on the left side is mirrored on the right. Symmetrically placed forms add stability and balance.
The formal gardens of the geometric period in France in the seventeenth century were founded on symmetrical design. The picturesque English landscape gardens of the eighteenth century reacted against it and celebrated the naturalness of asymmetry. In contemporary residential landscape design, we often combine elements of symmetry and asymmetry in different parts of the master plan to achieve formality, informality or, as is often the case, a subtle blending of both.
4. Repetition and Rhythm. When a similar form is repeated at regular or irregular intervals, a certain rhythm results. Bouncing balls of boxwoods have delighted generations of gardeners and are probably one of the most vivid examples of repetition. When similar forms are organized in a single direction, the effect of rhythmic movement is even stronger.
The technique of repeating the same shape gives a landscape design a feeling of unity; the eye seems to like the echoing of a form, and we subconsciously join these elements together into a whole scene. The use of large, repeated forms, such as clipped cedars, takes a bit of conviction because its effect tends to dominate. When done well, few design treatments have more authority or sophistication.
Join us in Charleston, February 25-27, 2013 as we share the recipes for these timeless outdoor rooms.
In honor of Dargan Landscape Architects 40th Anniversary in 2013, Elements of Outdoor Rooms, harkens to our early design practice in Charleston, SC. Full time for decades and continuing on today, we've tested art elements & client needs on the canvas of this historic city. Dargan archives at the South Carolina Historical Society house hundreds of our courtyard and outdoor room designs, many of which exist today and hold lifestyle tools useful to properties anywhere.