There are many figures and sculptures of mothers and daughters, but it seems there aren't as many of fathers and sons. Sculptor Carl Peverall dives deep into explaining his magnificent piece titled just that, 'Father and Son'.
Carl's son, Ethan Peverall, also happens to be his partner in sculpture design, creation and installation. Ethan is in the video standing to the right!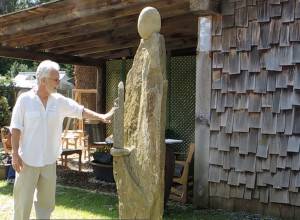 Join us in person for the opportunity to ask questions and meet the garden experts at any one of our Garden Talk Salons.
Want more? Visit our extensive collection of videos for you to enjoy from Dovecote Porch and Gardens by clicking here.