Hankering for a little gardening enlightenment? Join us in person at our summer workshops, watch the videos or hire Mary Palmer as a keynote or workshop speaker. The 3 links above share our upcoming events.
Dear Gardening Enthusiast,
When we moved to Dovecote in Cashiers, NC in 2013 from our home of 16 years at Highcote at High Hampton, we had the unexpected pleasure of public space…you know, people wandering around, parking and a restaurant next door. Unannounced visitors simply walked thru our front door, thinking it was a shop! Being perpetually in two places at once, a friend suggested an honesty box for sales; it was popular and my books sold, well, like hot cakes. I put our a few mossed planters and they quickly went to good homes.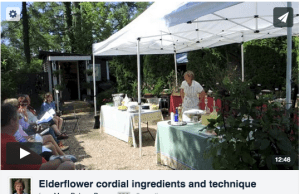 In 2015, we added The Hobbit Hole for children's miniature garden exploration. Then, The Pickery, a cut flower, and pollinator garden rapidly evolved for high summer color to tantalize pollinators.
Our line of white oak furniture arrived, artistic high-fired pots & planters appeared along with Dovecote's extensive collection of mossed planters and blooming tables. Amazingly, the atmospheric barn next door went vacant. We now have an "adopt-a-barn" project, plus the pasture to park in…I'm feeling very British as this reminds me of our wonderful summer travels to private gardens in England.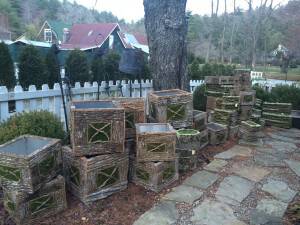 In 2014, Hugh suggested that I add a few more products and weekend help. The Dovecote Garden Talk Salon evolved! Wow, we have such inspirational speakers in the area and people move here wanting to know how to garden in the mountains. Occasionally it rains here, and the show must go on. So, a little tented venue cropped up like a large mushroom in our driveway to hold our speaker and demonstration tables.
Please come sit on our porch and rock for a while, or catch the latest news on mountain gardening….Cashiers style!
We look forward to seeing you soon.

Mary Palmer Dargan, rla