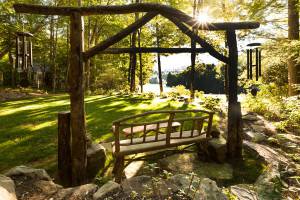 Whew. Its taken a summer like 2016 when friends and family had calamities, passed away or got really sick to make me appreciate my garden and health even more… and then the specter of scary local fires burning thousands of acres in our treasured Smoky Mountains which made me appreciate our fragile ecosystem.
This blog is a personal note is to myself to review everything in Dargan Landscape Architects book of work to help my friends, their home environments and interface with nature. Like holding hands with fragile yet resilient gloves that fit perfectly.
Hugh and I have been in practice as landscape architects for over four decades. Our client's now lovely landscapes were tricky places to make behave: with thin soils, complicated topography, owners large wish list, zoning issues, too much or too little shade, too much or too little water, not enough space, too vast a canvas, weird parking, insufficient walkways…the list goes on!  We are blessed with the honor to coax, bend and collaborate with the owners to get the best designs built, and we thank them for sharing their private worlds.
My goal is to inspire homeowners to get the best out of their precious home environment. Design it to yield healthy wellbeing, inspire you to be your best and to provide nurturing spaces. Once we finish this work together, your garden will function like a well-oiled machine, which in itself is a stress-reducing factor.
Photographer, Sarah Valentine of Highlands NC,  shot beautiful dawn shots and late summer portraits of many of our local gardens.
Stay tuned as the book progresses!