Garden spaces can become havens of peace and tranquility. It's all in the design. The right combination and arrangement of landscape design elements can yield spaces that not only look serene, but have the power to quiet the mind and soothe the spirit. Here are some of the elements we recommend incorporating into gardens to create outdoor spaces that offer a beautiful sanctuary to escape the everyday hustle and bustle.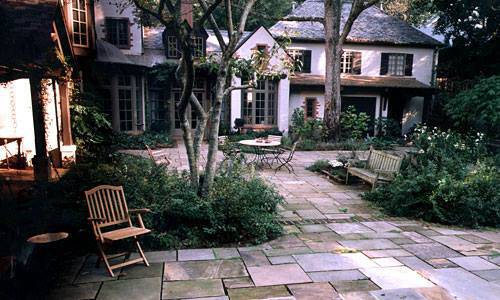 You can set the tone with your landscape, so the mood you are trying to create can be felt the moment one arrives to your property. One way to do this is with an allée design by lining the driveway with bushes or trees, such as old oaks or new maples. Originally a common feature of formal French gardens, an allée can create an entryway that is like a warm embrace. It can naturally lead to a welcoming landing. 
A circular path that runs through or around a garden is a timeless method for turning outdoor spaces into an experience. Walkways can be constructed of wood chips, grass, bricks, or stones. Separate stop-offs can be added along the pathway using benches, fountains, statues, or plant bed themes like a butterfly garden. Nodes can also be embedded throughout gardens to add variety and create options. They can be designed with focal points and should take advantage of light and shadow. A pathway leading up to a node can be shaded by plantings to incite forward motion. The intuitive response is to keep moving until you reach the next node flooded with light. The more thought put into the different stop-offs and nodes, the more ways you can enjoy your garden.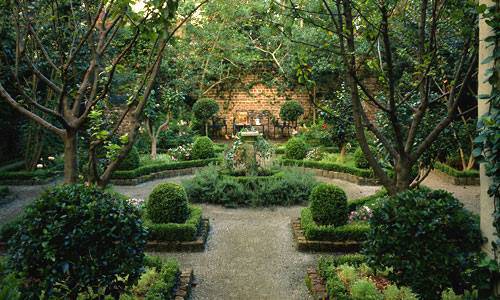 Gardens can be enclosed in fences to add privacy, block sounds from the road, and to create the feeling of being truly immersed in nature. Fences provide other benefits including the repelling of rodents and other animals that may indulge on plants. Enclosures give you the opportunity to take advantage of entry points with a gorgeous gate design. Gates can be custom designed to achieve the garden style of your dreams, whether that is simple and picturesque or intricate, fantastical, and whimsical. 
A grass terrace is a fabulous garden space for dining, walking pets, or simply creating another seating area where you can take in garden surroundings. These green spaces can also make for stunning views from inside the home. Grass terraces are flat spaces that are built into a slope and bordered with a retaining wall and hedges or other similar plantings. 
For more garden design inspiration, follow us on Houzz or Pinterest. Contact Dargan Landscape Architects to learn how we can help you achieve your own outdoor utopias.