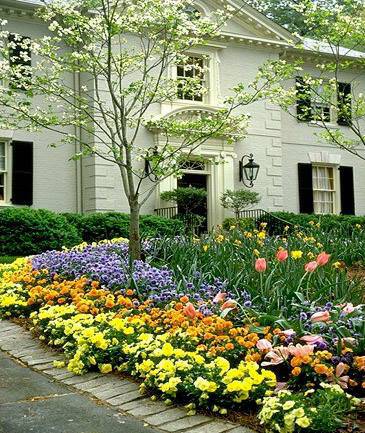 We all know how color can affect our moods and emotions, which is why we are so particular about the hues we bring into our home. Similarly, gardens can be designed with color palettes that create a certain feel or mood. One of the most appealing parts about flowers is their colorful blossoms and petals. Since perennials can be found in almost any color on the spectrum, gardens can be designed with color combinations that make them feel as beautiful as they look. 
Plants with evocative tones can have a powerful affect on gardens. Racy reds, sunny yellow, vibrant magenta and bright orange, for instance, can bring gardens to life with invigorating energy. An attractive scheme can be created by combining colors that are complementary or opposite on the color wheel to ensure strong, aesthetically-pleasing contrasts for added vitality and creative energy. Harmonious hues – which are adjacent on the color wheel – can round out palettes with balance and cohesiveness. 
Flowers and plants, as well as accessories for outdoor living spaces, can be used to add color to gardens. Command attention with a patch of assertive red lilies or create a dynamic look through smaller pops, like a piece of red outdoor furniture. Orange poppy flowers can add warmth with a vivid tone that inherently makes you smile. Yellow accent pillows can brighten an outdoor living space while a big bed of yellow rudbeckia can make a garden appear larger.
Blue blossoms are rare, but some planters with blue and violet delphinium, or a patio finished with turquoise tiles, can make for an environment that is both stunning and serene. A touch of purple can always be used to infuse a little nostalgia or help to finish a modern scene with its complex blend of calming blue and energizing red. 
To go bold in the garden, don't limit yourself to bedding plants. Shrubbery with an animating hue can add a little drama as they bring color to eye-level. Container plantings can bring color where soil can't in areas including decks, porches, walkways, and steps. Gardens can also be carefully planned with containers, beds, trees, and shrubs in a way that ensures a captivating landscape all year long with different colors for every season. 
For a steady source of garden design and landscape architecture inspiration, like Dargan Landscape Architects on Facebook and follow co-owner Mary Palmer Dargan on Twitter.