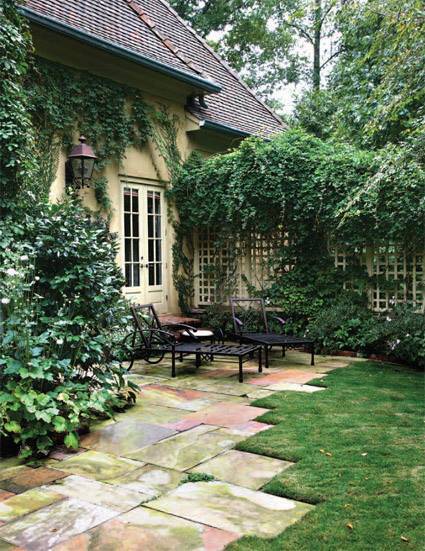 A well-designed garden is aesthetically interesting from every angle, even corners. Too often, corner areas of the garden get overlooked or underrated as a space that can enhance landscapes and outdoor living. No matter what the size of your garden, it can be designed to make the most of each corner, so no inch of beautiful outdoor space goes to waste. Such spatial planning in the garden can add value to your property and quality of life. A smart garden designed to optimize space can leave you with better views to enjoy from inside your home as well as more ways to connect with nature and expand living space beyond the walls of the home.
Here are some of the garden design ideas we are finding inspiration from right now as we begin planning for the spring growing season:
Convert a corner into a focal point: Turning a corner of the garden into an intriguing focal point will direct the eyes to this area, highlighting the spaciousness or making the garden feel larger. An ornamental tree, sculpture, or fountain that compliments the style of your home and landscape can make for a fabulous focal point. Blend it into the rest of the landscape with a border garden. Position a light fixture on this focal point to create a more dynamic lighting scheme and allow this corner to shine even at nighttime.
Create a corner seating area: A built-in garden bench, sectional sofa, or patio area with table and chairs can be a great use of a corner space. This layout will allow you to entertain and relax outdoors as you enjoy your garden from a new and unique vantage point. A pergola, fire pit, or full outdoor fireplace can anchor and define this corner seating area and allow its use more seasons out of the year.
Tuck in a pavilion, gazebo, or other structure: An outbuilding nestled in the corner can turn this space of your garden into your own backyard retreat. A more significant corner structure can also give you the opportunity to establish the style of your garden, whether it's inspired by modern, Asian design or an enchanting and picturesque cottage scene.
Are the corners of your garden working as hard as they could be for you and your landscape?
We'd love to help you make the most of your landscape with a custom garden. Whether you are looking to entertain outside or simply achieve a space to inspire and encourage a stronger relationship with nature, Dargan Landscape Architects would love to help build and design the garden of your dreams. Contact us by calling me (Mary Palmer Dargan) at 404.354.1715 or Hugh Dargan at 404.354.1714.