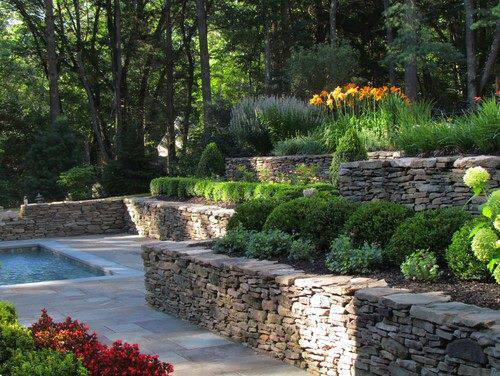 The benefits of raised garden beds abound, and there's no better way to ensure a bountiful garden than with sturdy and reliable raised beds. Gardening in boxes or contained areas makes it easier to maintain better soil and prevent weeds and pests. With more control over nutrient levels, soil temperature, and seed distribution, raised beds allow you to enjoy higher yields and longer growing seasons. 
Raised beds not only make for beautiful and healthy gardens, but they can also add incredible aesthetic value to landscapes. As we enter the tail-end of the winter season, we're dreaming of lush and gorgeous spring gardens with inspiring raised beds that are design elements in themselves.  
The classic raised bed is constructed with a wooden box. These are the traditional structures most people picture when hearing raised beds. Wooden raised beds can easily be designed with ledges on top to provide convenient seating for nurturing and enjoying gardens. 

Great for garden designs that are outside of the box, stone walls can be used to make creative and more organic-shaped raised beds. The cool tones and natural textures of stone masonry additionally create naturally stunning contrasts in the garden. 

Metal raised beds can be fabricated from troughs, stock tanks, culverts, slabs of steel or Cor-Ten. What's so intriguing about metal raised beds is the industrial, modern, or rustic feel they can bring into garden designs. These types of beds not only create up-to-date designs but are long-lasting and weather-resistant. 

Other materials that can be used for raised gardens include rock, cinderblock, and brick. But no matter what materials are employed, there are still plenty of opportunities to create a custom garden design with the shapes, positioning, and configuration of raised beds.

Beds can be configured into a grid pattern or organized to outline and surround a yard or patio. They can be terraced on a slope or laid into narrow rows like a small farm. Galvanized culvert beds or metal troughs can be arranged in a way that makes for a whimsical, shabby-chic garden or a chic, contemporary design. 
Raised beds can be used to achieve any style garden, from formal designs to clean and contemporary landscapes to more casual, cottage-inspired looks. They can also be practical and functional. Picture being able to cook in an outdoor kitchen with herb gardens in nearby raised beds, or imagine being able to smell herbs as you dine and entertain al fresco. 
Our team at Dargan Landscape Architects has the expertise and passion to design the garden of your dreams. Whether you've always wanted an edible garden or your entire landscape could use an update, our team would love to help. Contact us online or call 404.231.3889.