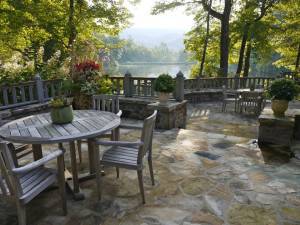 Outdoor rooms rank among the top requests with homeowners and homebuyers. And it's no wonder because there are so many purposes and benefits that can be enjoyed with outdoor living spaces.
Maybe you want an outdoor venue for entertaining guests and throwing fabulous parties or an intimate space for dining al fresco with close family and friends. Maybe you envision an outdoor space that enhances the look and feel of your home while providing a safe and convenient place for your children to play outside. Perhaps you just want a space that will encourage you to spend more time in nature and find better ways to entertain. With the right landscaping, you can achieve a gorgeous outdoor room that brings beauty, style, health and pleasure to your home.
Ensuring your home has a space for gathering outdoors can bring wonderful health benefits to your household. After all, social interaction is healthy for all individuals at any stage of life as it promotes healthy physical and mental development.
Outdoor social settings are usually designed within the perimeter of the home, which means around seventy to a hundred feet from the house. These spaces are most popularly used for social activities and entertainment but can also be strategically designed to serve as multipurpose spaces. For example, a dining terrace can be decorated with vegetables planted in pots, all of which could be adjacent to a small outdoor spa. With the help of a professional, your outdoor room can be carefully planned to take advantage of every spatial opportunity.
Outdoor rooms for socializing can include decks, terraces, pavilions, loggias or lawns. They can include grills, wet bars or even entire outdoor kitchens. They can be more subtle such as a bench niche in a shaded area under a large tree or an outdoor fireplace or firepit to allow you to use your outdoor space year-round.
We'd love to help spark some ideas for your very own outdoor room for social gatherings. Feel free to browse through our photos for inspiration or contact us at Dargan Landscape Architects to begin discussing a potential project.