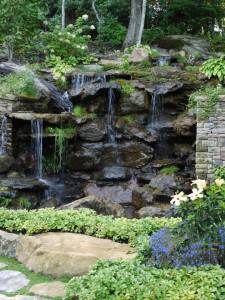 As the essence of life, water can become the heart and soul of your landscape with a well-designed waterfall feature. Bringing your landscape to life with movement and sound, a waterfall environment can stimulate more than just your sense of sight. You'll quickly find how a waterfall goes far beyond beautifying. The personal benefits of a waterfall feature can actually far exceed the aesthetic impact it has on your landscape.
There's nothing quite like the sound of a waterfall. It is nature's symphony. Creating a beautiful sounding waterfall, however – just like creating a beautiful sounding symphony – is more complicated than you might think. When water separates and hits different surfaces, it creates different tones. The acoustics of a waterfall feature, therefore, must be properly tuned to optimize the positive impact it has on your senses and emotions.
A thoughtfully-designed waterfall can also stimulate your sense of touch. It often goes overlooked, but interacting with waterfalls can be just as enjoyable as the experience of seeing and hearing them. Close your eyes and imagine the soothing feeling of the liquid moving around your hand after a stressful day of work, or imagine the refreshing feeling of the mist subtly hitting and cooling your skin on a hot summer's day.
The movement of a waterfall certainly brings landscapes to life, but it also draws wildlife to your landscape. Birds, butterflies, and other majestic creatures and beings will grace your landscape and your life when there's water flowing. Water features additionally open up your landscape to a diverse world of plants that you would otherwise not be able to include in your landscape. A waterfall can coalesce into a pond featuring spectacular water lilies, lotus plants and other blooming plants that require water.
No need to worry about wasting water or energy. A self-contained water feature can consistently and sustainably run 24-hours a day, 365 days a year.
Let us help you achieve a landscape design that stimulates all of your senses. Contact Dargan Landscape Architects in Atlanta to set up a consultation for a water feature installation or other landscape architecture project.