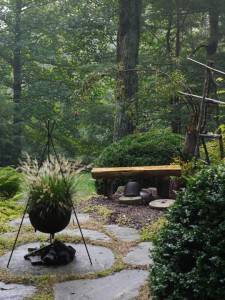 Benefits abound with kitchen gardens. From healthy sustenance to therapeutic power, kitchen gardens can be customized to provide just what the doctor ordered and more. Here at Dargan, we've designed and built several kitchen gardens that do more than offer wholesome ingredients. They enhance quality of life.
A classic approach to a kitchen garden is to create circular design with four pathways leading to four central beds all encircled by a tall wall. The four central beds can be anchored by different types of boxwoods such as Kingsville dwarf, parsley or chives to provide evergreen armature during the winter. For a less formal look, allow nasturtiums to cascade over and mingle with the walkways. Raised beds can be constructed from 12 x 2-inch edging boards with six inches above and below ground to promote proper drainage.
For pathways, bricks or stone set without mortar will prevent storm runoff and add naturally beautiful color and texture. The wall encompassing the garden can be accompanied by a living fence designed out of fruit trees to add to the aesthetics while extending the garden's harvest.
The interior beds can feature seasonal vegetables protected by exterior beds of tough and tolerant plants such as kale, asparagus, chard and comfrey. Lettuces can be intertwined with annual herbs such as borage and mustard plants. Separate compartments can harbor string and stable root vegetables.
After the beds are strategically designed and arranged, aesthetic accents and features can be added to achieve and personalize the look and functionality. Herbs, for instance, can be planted in cast-iron gypsy kettles at the garden's entryway for a charming touch. Benches can be positioned in particular corners to provide a place to relax and enjoy the garden as well as provide convenient surface areas for tools and baskets when maintaining the garden. Other features to consider including are birdhouses, fountains and even bee houses and chicken coops.
Are you feeling inspired to add a kitchen garden that will help you with your New Year resolutions to take control of your health and happiness? Contact Dargan Landscape Architects to set up a consultation today.