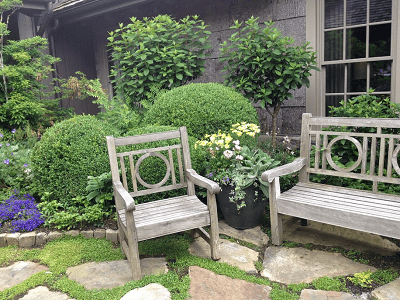 Evergreens are more than just a vibrant year-round plant addition; they provide a way to gain privacy and sound buffering, change up the texture in your landscape, or provide an attractive habitat for local birds and wildlife.
Pictures and Ideas for Incorporating Evergreens into a Landscape Design
For a quick primer on incorporating evergreens into a landscape design, we recommend watching this video, created at one of this summer's Dovecote Summer Garden Talk Salons. It will provide important background information, so you can make better choices regarding the evergreen species you choose for your outdoor landscapes.
Here are a few ideas for additional inspiration:
Make it a focal point in a formal garden planter. In this garden, which takes its inspiration from formal English gardening techniques, the evergreen yew is the focal point of the planter. The pink blooms of the mid-perimeter geraniums create a colorful contrast to the surrounding greenery, including the exterior-perimeter boundary formed by boxwoods. The fun thing about this concept is that you can prune your yew and/or boxwoods into different sizes and shapes as the years progress. It's an adaptable canvas.
Augment a new or existing garden accessory. If a garden accessory is your focal point, evergreens can be used to showcase it. I love how the holly plants surrounding this gorgeous oversized "bird cage" accessory have been pruned to mimic its shape. The variegated leaves echo the patina on the metal, creating a complete visual package.
Use evergreens to form living boundaries, privacy and sound relief. You can customize the size and shape of your evergreen selections to meet your need for living perimeter boundaries, such as the multi-level evergreens that create depth in this landscape plan. Trees can be grown much taller than typical building codes allow for fence lines, so they are ideal for creating privacy. Soft foliage and bark help absorb sound from a busy street, sidewalk, or from a public area of your landscape to a more private seating area.
Would you like professional assistance incorporating evergreens into your landscape? Schedule a consultation with Dargan Landscape Architects.