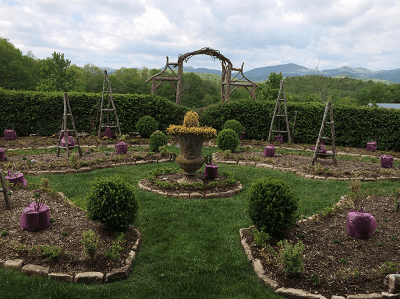 Installing borders and edges in your garden and along pathways can easily update the look of your garden and draw attention to areas of note. Although edging can be used to beautify your space, it also has some functional benefits as well, such as retaining gravel or mulch used in your beds, holding back soil, and making mowing easier. Edging projects can be completed in hours or days, and costs range from free to very pricey depending on your choice. There are many edging selections for gardens and walkways to choose from.
Bricks
Bricks are a classic material used in garden edging projects. They are easy to install, however, installation can be time-consuming. They can be laid flat to create a wide border, often referred to as soldier edging; stood up on end to create a narrow yet prominent border, called a sailor edging; or laid diagonally to create interest. New bricks can be used for a crisp look while reclaimed bricks can add texture and interest.
Stones and Boulders
Although natural-looking placement can be difficult and heavy work, stones and boulders make great borders and edges. If you use locally sourced materials, your edging will look more natural and these types of borders work best with casual gardens. Many of our designs feature a crab orchard cobblestone edging, giving the designs a timeless look.
Cast or Poured Concrete
Edging selections for gardens and walkways are limited only by your imagination when using concrete products. There are pigments that can be added to create a wide variety of colors, textures can be designed, and added interest can be created by adding stones, glass and other items. Concrete is fairly permanent, so it is best to choose wisely.
Bender Board
Highly flexible and often made from recycled items, bender board makes a great border for your beds or edging for walkways. The material is extremely pliable which makes it easy to create meandering pathways or uniquely shaped beds.
If you would like help with your landscaping design, including edging and borders, Dargan Landscape Architects is here to help. We invite you to contact us to begin your design consultation to create your dream garden.