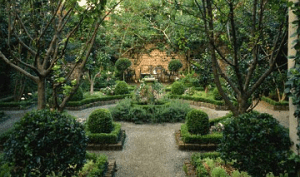 Garden paths may be functional and lead to a specific destination or they may be decorative and lend themselves to a stroll through your landscape. Regardless of their purpose, paths should always have a destination as a type of reward for whomever chooses to follow them. For a stroll-type path, the destination may be a beautiful centerpiece such as the one we created as a Dargan Landscape Architects project in this photo. Other destinations may be a sitting area or even a view of water. Incorporating natural elements into garden paths will ensure that whether the design is for function or fancy, they will still be beautiful and tie well into your garden's overall design.
Once you have determined the destination, you need to assess what elements your garden path will pass through. When incorporating natural elements into garden paths, the idea is to keep them in character with the surroundings rather than having them clash or seem to be an afterthought. For example, a meandering pathway of variegated stones may not work well with a landscape that is ultra-modern and geometric.
To ensure the garden path is safe and comfortable for walking, stones or pavers should not have gaps larger than four inches between them and gravel-type paths must be secure enough to walk over without turning an ankle. Such safety measures do not have to impede your design, however. The materials you choose can be used in many ways to blend beautifully with your landscape. Irregular shapes can be used to create interesting walkways with live plants or pea gravel as space fillers. Uniform shapes can be mixed and matched to create interesting patterns or a cobbled look.
Before beginning construction on your garden paths, you should determine the end result you wish to achieve and create a plan. You can get some inspiration from our Dargan Landscape Architects photos or contact us to help you design and build the perfect pathway for your landscape.