Terraces are one of the most important aspects of your landscape's perimeter spaces, especially for those who live in smaller suburban homes and townhouses, where they may comprise the majority — if not the entirety — of your landscape plan. A terrace, or patio, is any paved surface that joins the house, regardless of its size. A well-designed terrace will be congruent with the existing architecture and will also create a seamless transition to the subsequent landscape, providing homeowners with more ways to use their outdoor living space to the fullest.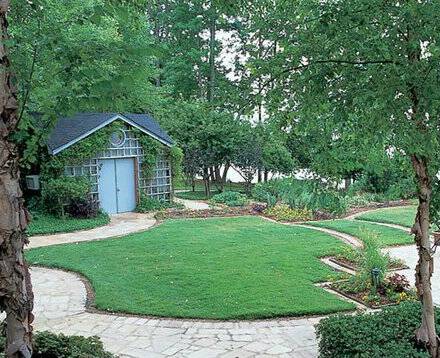 If you're considering the addition of a terrace for your landscape, consider the following tips from Mary Palmer's book, Timeless Landscape Design: 
Size: The first thing you'll want to consider is how large or small your terrace should be.
Small. A small terrace is ideal for an intimate bistro table for two. In cases where outdoor space is limited, a 6'x6′ space will suffice. For a sightly larger dining area, you may want to allow for a 12'x12′ area.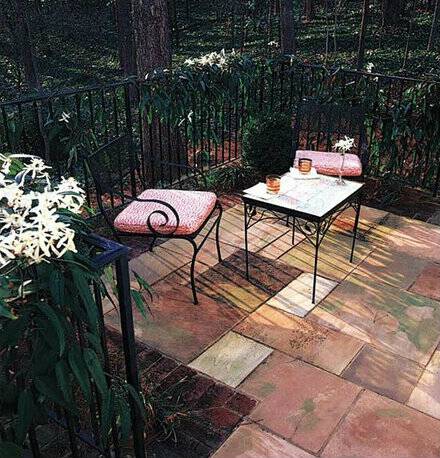 Medium. If you entertain often and enjoy dining alfresco, we recommend at least a medium-sized terrace, measuring 12'x18′. This will accommodate two 60-inch round tables, which can each comfortably seat six to eight people with room to move.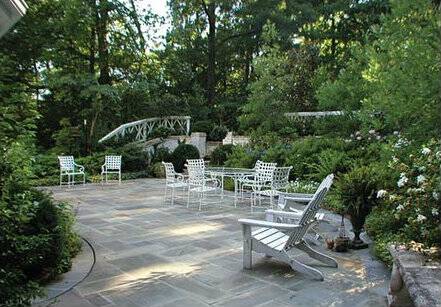 Large. If you commonly host large gatherings, a large terrace should measure at least 24'x36′ and accommodate three 60-inch tables.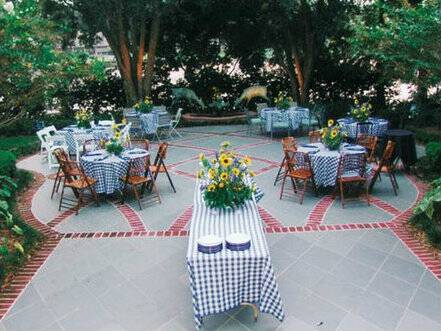 Larger terraces are often required in backyards with a pool to provide enough patio space for entering/exiting the pool and lounging. Without ample space, the pool may become littered with landscape debris.
Shapes. A terrace's shape is usually determined by its function. If the terrace will have a grill, that should be accounted for to prevent impeding traffic flow. Pools and water features affect the shape, as does the size of the house — the larger the house, the larger the terrace for proportion's sake. Ground-level terraces are often designed with a round or bowed shape to create a graceful aesthetic that flows into nature.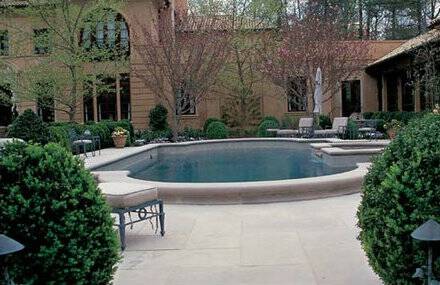 Materials. The two most traditional terrace materials are brick and stone. The largest surface area is called the "field." If you choose a different material for the edge, this area is referred to as "edging" or "banding." The materials and colors you choose are completely dependent on your existing architecture and landscape features. Monochromatic palettes are optimal for a soothing ambiance. Contrasting colors and patterns will also liven things up.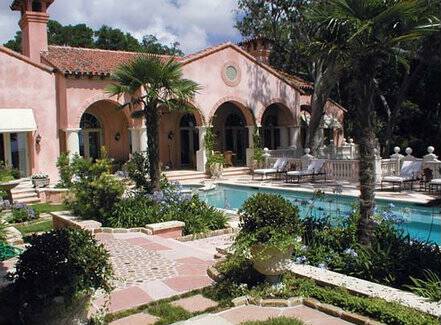 For more information on terraces and perimeter spaces, purchase a copy of Timeless Landscape Design, or contact Dargan Landscape Architects for professional assistance with your next master plan or tuneup project.