A fully expressed landscape begins at the curb and ends at your front door. Mary Palmer's book, Timeless Landscape Design, outlines how homeowners can use an approach and arrival sequence in order to design an entry and front yard landscape that makes an indelible first impression.
This approach and arrival sequence has existed in landscape design for centuries. Traditionally, it consisted of a long drive, divided into sections, which led visitors to the front door. In a country home, this distance may consume several miles; in an urban development, it may only be a matter of yards. In either case, it serves as a portal, creating a beautiful and soothing transition from the public sphere to the private one.
Three Axioms to Make a Unique and Personal First Impression
Use the following axioms to guide the design of your approach and arrival sequence.
Axiom 1: Harmony of Materials. Select your color palate and hardscape materials from the outset and use them throughout the entire sequence to create a feeling of consistency, familiarity, and harmony. The architectural materials of the home and existing landscape should be incorporated into the new design as well.
Axiom 2: Seamless Flow. While you, the landscape designers and builders are aware you are creating a progressive experience, visitors and guests should feel as if it is a seamless, coherent whole – with one design element flowing effortlessly into the next.
Axiom 3: Modulate Space. Use your landscape to shape and mold the view, choosing plants for their particular visual interest in all seasons. Plants add shape, line, color and texture leading one through the sequence. Furnishings and hardscape features should be used sparingly.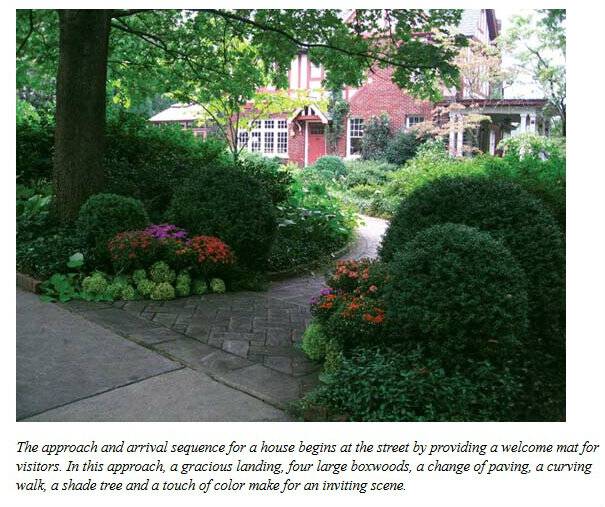 The Anatomy of the Approach and Arrival Sequence
Your approach and arrival should be divided into three anatomical parts, designed to form a continuous body.
The anatomy of the approach and arrival sequence is comprised of:
The Drive Portal and Corridor – This area should be treated so that it enhances "the personality of your approach with regard to color, mail collection, pots, paving and plant materials" to help express your property's overall personality.
Parking Court – Your parking court should be carefully planned so that it is large enough for your family and guests to use. To find the perfect arrangement for your property, use survey flags from your local hardware store and a tape measure to map it out.
The Front Walk, Entry Node and Landing – This area will be your guests final welcome to your home. The walk should direct guests to your door with ease and, as a part of your landscape, can feature potted plants or color nodes to "reinforce its importance." If this area has steps, consider landings every five or six steps to make it feel less steep.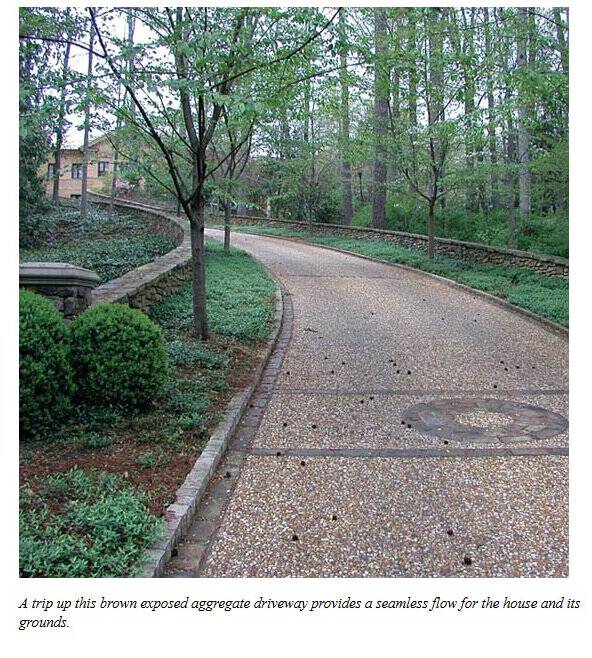 Each of these areas should be thoughtfully considered as to how they comprise the whole. For more information on how to design a timeless landscape, pick up a copy of Mary Palmer's book, Timeless Landscape Design, or contact Dargan Landscape Architects for professional assistance.