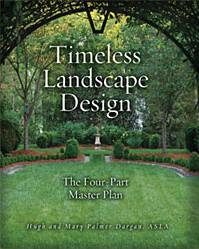 A well designed garden takes more than plants and flowers to consider it eye-catching. Hugh and Mary Palmer Dargan, ASLAs explore the depth of visual art in landscape design in their new book Timeless Landscape Design: The Four-Part Master Plan (Gibbs Smith, Publisher, $29.95, Hardcover, January). According to the outdoor design duo, the map to creating flawless landscapes lies in the unique four-part master plan and the skillful application of the art elements: line, color, form, and texture, as well as broader design principles such as proportion, scale, and focalization. Combined, these techniques are the groundwork for defining "timeless landscapes" — those that please the eye, nourish the soul and make living easier.
The Dargans share a blend of specific design techniques and practical advice on how to achieve the sophisticated look of a professionally designed landscape on any size or type of property. Examples of specific design treatments are beautifully illustrated with lush color photography taken from their own archives and landscape plans of their client's gardens. Illustrations of historic gardens from around the world that inspired to the authors are included as well as before and after examples of the authors' award-winning work.
Read more about the philosophy behind the Four-Part Master Plan >
View the media recognition written about Dargan Designs >
Large Format Pictures of Mary Palmer & Hugh Dargan:
Mary Palmer, Hugh Dargan and Hugh & Mary Palmer Dargan PR photo.
Timeless Landscape Design
Book Cover Photo Large Format Image
Examples from Timeless Landscape Design:
Get it now! Timeless Landscape Design – $25 + 9.97 SH

Note: For autographed copies, please give the name and message, or we will be creative!