During the holiday season, our homes naturally take on a more cheerful look with all of the beautiful decorations that adorn our interior landscapes. We love incorporating a few plants for an extra burst of fragrance that also generate a little extra oomph to our holiday décor. One of our favorites here at Dargan Landscape Architects is the Paperwhite Narcissus because they offer a spectacular look and scent for several weeks!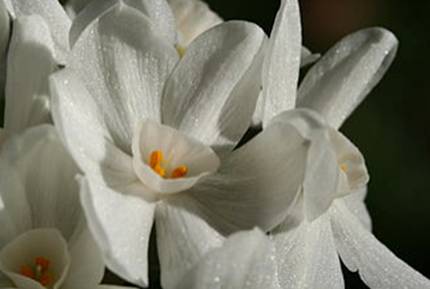 Paperwhites are a type of daffodil that is a perennial plant native to the Mediterranean. This fragrant plant features white flowers that come in clusters. What we love best about Paperwhites is that the bulbs can easily be found at your local nursery and are relatively inexpensive, easy to plant and come into bloom within three to four weeks of planting. Because of this, Paperwhites are easy to "force" into a planter of your choice to be used as holiday décor or as a gift! They're perfect for your gardening friends and family, or to give as a thoughtful hostess gift!
And speaking of holiday gifts, our own Mary Palmer has a special gift just for you! She has created an informative video and whitepaper filled with all the information you need to know about planting Paperwhites in the winter to provide scent and sensation in your home throughout the colder months – complete with planting instructions! Mary Palmer has also included an example of Paperwhites grown by her friend, master horticulturist Virginia Almand, that are in full bloom and ready to display or to give as a gift.
To take advantage of this special gift, visit our website today to download the whitepaper! You can also find Mary Palmer's instructional video on YouTube!
P.S. – Don't forget about our first winter sale! The shop closes at midnight on December 18. Check out our special holiday gifts for the gardeners in your life.
P.P.S. – If you would like the opportunity to discuss your garden or landscape design needs with Mary Palmer, send her an email at [email protected]. Our legendary SPROUT in PLACE workshop will begin in January!