There are many elements necessary for a gorgeous and functional landscape. Yes, features such as colorful plants, trees, benches, chairs and perhaps a fountain are a few of the necessities. But one area that's often overlooked until winter sets in is the potential of hardscapes.
Hardscapes are just as important as the living portions of your landscape, especially for functionality. In some instances, hardscape surfaces, such as rock walls, create the backbone of your garden. Most often, hardscapes help define outdoor rooms of a home, creating a seamless transition into nature where homeowners can cook and host guests. These features also allow you to enjoy recreational activities or to just sit and take in the beauty of your surroundings. Still, in other cases, hardscaping can be used simply to enhance visual interest through texture, or to create symmetry or proportion within the parameters of the area.
Additional benefits of hardscaping that are often overlooked include:
Decreases erosion on properties with slopes and/or uneven soil
Increases property value
Requires less maintenance
Makes your landscape and garden areas more accessible to all guests
Reduces the amount of water needed to maintain your landscape
Below are a few examples of functional and beautiful hardscapes. Take a look and get inspired for your next hardscaping project!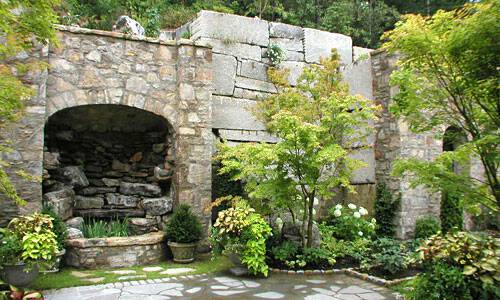 In this project, we used a variety of stones to create a focal point that captures the eye through texture. The arched openings create the right amount of mystery to draw the viewer closer to the structure.
The brick walls in this hardscape create a nice frame for the courtyard, as well as the woodland views beyond the fence.
We love the contrasting colors used in the bricks of this outdoor fireplace and patio design. What a cozy spot to enjoy a cool evening!
This hardscape design creates visual interest with terraces for plantings, while also controlling erosion.
In this design, a brick pathway adds a traditional element to a more contemporary garden. Notice how the layout of the bricks pulls your eye toward the center arrangement.
Are you considering an update to your current hardscape, or are you looking to incorporate a hardscape into your garden? Contact Dargan Landscape Architects today. We would love to discuss how we can help you achieve the perfect look for your garden, complete with a hardscape that balances the rest of your area. Give us a call at 404-231-3889 to schedule an appointment. We can work with you virtually or in person.