Listen to Mary Palmer Dargan as she gives us all of this weekend's jam-packed garden activities in Cashiers.
It's important to note that this week's Garden Talk Salon will be held on SATURDAY at 10 am, not Friday, at The Garden Talk Salon headquarters, 35 Flash Point Drive at Dovecote in Cashiers, North Carolina.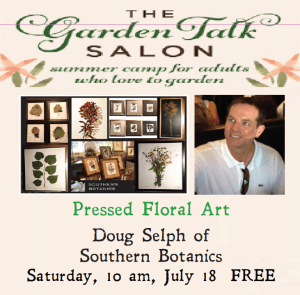 Remember, this week's Garden Talk Salon guest Doug Selph of Southern Botanics and Dovecote will also have booths during this weekend's Joy Garden Tour at the Village Green Commons.
Hours:
Friday 9 a.m.-5 p.m.
Saturday 9 a.m.-3:30 p.m.
Click here to visit the Village Green's website.
Please stop by and say hello!