If you haven't registered to receive Dargan Landscape Architects' Landscape Your Life ezine, you're missing out on some great information! Our ezines are filled with great landscape design inspiration and tips, videos from the field, our latest events and appearances and more. Here's a look at what we shared in our latest ezine!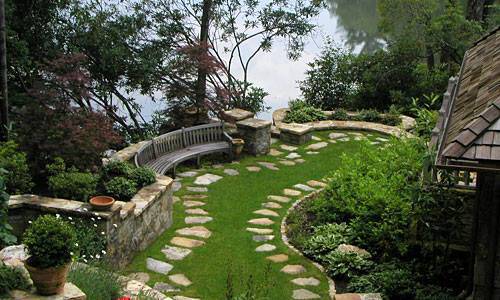 Tips for a Four Season Garden
Much like woodland creatures, we tend to let our gardens hibernate in the winter and early spring. However, gardens are meant to entertain us all year long! At the 1st Camellia & Garden Symposium a few weeks ago, Mary Palmer and Hugh gave the keynote lecture sharing planting design ideas, camellia underplantings, edgings and two case studies, as well as how camellias can be used to enhance our landscapes all year long for a true four season garden.
Lessons From the Field
In another video, we show how Mary Palmer and Hugh tag teamed to transform what was best described as a "Sticky Widget" of a landscape into a lush, gorgeous landscape. With our clients' vision in place, Hugh began work on the bare bones of the landscape, while Mary Palmer later added the embellishments to the family home landscape.
Fertile Thoughts?
With spring right around the corner, there's no better time to make plans to turn your landscape design dreams into a reality. Think about where your landscape and home environment are now and where you'd like for it to be this year, and then contact us online or at 404-231-3889 for a free worksheet and a complementary garden design consultation.
For more landscape design tips, ideas and information, be sure to check out our blog. Also, register your email address with Landscape Your Life to receive our ezines, as well as free worksheets and webinars covering a variety of topics to help you create a healthy and vibrant landscape you and your family can enjoy!