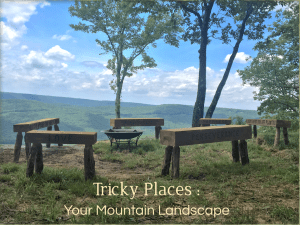 May 25 at 4 pm, Mary Palmer Dargan share the tricks of her trade at the Albert Carlton Library in Cashiers. http://fontanalib.org/cashiers
Trick Places refers to landscapes that are fragile, steep, complicated – but never boring! Do you have problems with your Parking, Terraces, Outdoor Dining & Pavilions, Captured Views, Steps & Walkways, Art & Sculpture, Seating Areas, Water & Basins, Gardens, FirePits, Service Areas, Pots and Planters, Parties or Lighting? Come pick her mind with your lifestyle conundrum!
The lecture is hosted by The Albert Carlton Friends of the Library.
Afterwards, you are invited to join the Dargans for a 5:30-7:30 " Evening Light" reception at Dovecote to honor Carl & Ethan Peverall, father and son sculptors, who create atmospheric works of art that grace many of our clients' gardens, and museums like Penland School of Art. The Peveralls speak also on Friday at 10 am about " Morning Light" the installation of Contemporary Stonehenge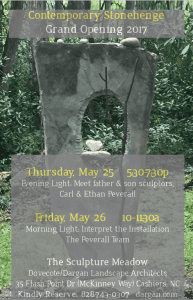 for more info on our garden talk salons, please visit
https://dargan.com/dovecote-events