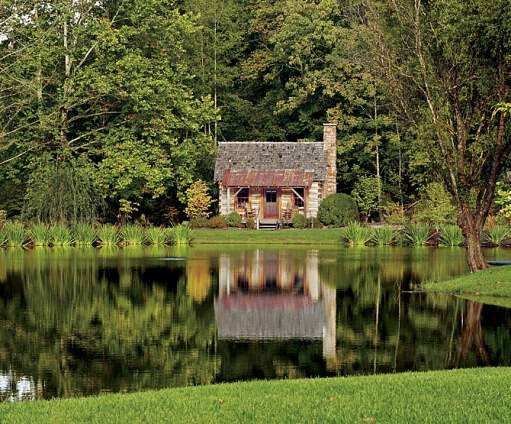 The tale of Toad Hall is steeped in folklore. Toad Hall is a 32-acre residential property located in a magnificent valley in Tennessee's Great Smoky Mountains. The property boasts historic log structures, a passageway barn, a writer's cottage, a stone bank barn, and a potting shed. When it came time to design the landscape, the owners turned to our team here at Dargan Landscape Architects.
The owners had a vision to turn the whole site into a lush English-style garden with native plants, natural materials, picturesque pathways, and majestic trees. The approach and arrival sequence takes you on a long pastoral drive amidst covered bridges, wildflower fields, grazing sheep, a trout stream, and even a little white chapel. The trout stream runs parallel to the drive and leads you to the heart of Toad Hall, a meadow nestled between majestic mountain woodland and soaring mossy boulder cliffs on the edge of Blackberry Farm.
A geothermal pond in a private enclave near the trout stream makes for a mini oasis. Complete with a tulip poplar island with turkey sculptures, the picturesque pond inherently ignites the same childlike wonder as "The Adventures of Huck Finn." Weeping willows line the lake, and a crescent moon can be spotted on the door of the log guest cottage. Rustic locust posts stand in place of lamp standards.
Arriving on the grounds, you are greeted by a gravel courtyard framed by a beautiful barn and stone shed. A pathway of orchard stones takes you through a grassy forecourt enclosed by billowing boxwoods. From tulip poplars to old-fashioned hydrangea to antique roses, native flowers weave in and out of the property, forming postcard-like backdrops.
The centerpiece of the site is a stunning eighteenth-century kitchen garden. The period design consists of four parts enclosed by an edible natural fence of espalier and apple trees. The four areas are separated by Kingsville boxwoods and are connected by rosemary and lavender in the center. Edges are constructed of tumbled cobblestone, and walkways are made of weathered stepping stones nestled in grass which help to blend the garden gracefully into the natural surroundings.
Read more about the enchanting landscape and log homes of Toad Hall in the Architectural Digest article online.
We'd love to see how we can help create your own home utopia. To learn more about our landscape design services, contact Dargan Landscape Architects online or by calling 404-231-3889.