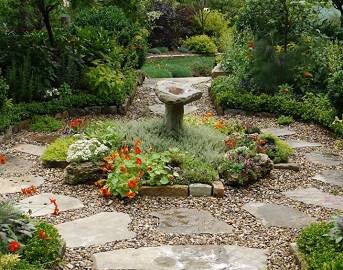 If you've been dreaming of a whimsical garden that captivates with magical colors, enchanting greenery, and other tiny touches, a fairy garden may be just for you. A miniature fairy garden takes container planting to a fun, new level. It's all about creating a realistic little landscape that will whisk you away to a charming fairy-like world. 
What I love most about fairy gardens is the opportunity to be creative and use your imagination. After all, there is no wrong way to create a fairy garden. There are endless materials and accessories that can add depth and aesthetic interest to a fairy garden including small twigs, rustic wood, beach pebbles, fine mulch, sand, seashells, small trinkets, and metal pieces.
The first step is to find a pot, container, or small bed and fill it with potting soil. Then the fun of planting and decorating can begin. Here are some of my favorite elements for creating a magical mini garden:
A Fantastical Focal Point 
A mini structure such as a dollhouse, arbor, or even a plant that emulates a small tree can make for a delightful garden centerpiece that draws the eye. 
A Picturesque Pathway 
Let onlookers follow a walkway or pathway with their eyes to the garden's centerpiece and central destination. Add to the charm by constructing it with little stepping stones or pea gravel. 
A Place to Sit
Make a mini seating area with dollhouse patio chairs, loungers, or other tiny furniture. 
A Beautiful Frame 
Set the scene and frame your fairy vignette with a lovely little fence. Think about positioning your fairy garden under a tree, near a bench in your garden, or in a landscape, so visitors won't miss experiencing the mini magic. 
A Little Life 
Bring your fairy garden to life with miniature animals, figurines, and plants with varying textures, colors, and heights. 
Feeling inspired to make your landscape more alluring? Contact me, Mary Palmer Dargan of Dargan Landscape Architects in Atlanta, directly at 404.354.1715. I'd love to tell you about our work and begin discussing ideas for your own custom garden full of treasures.