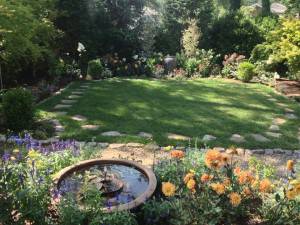 Establishing a garden that is healthy for both you and mother nature requires careful consideration of the complex and intricate web of life. Here at Dargan Landscape Architects, we follow six tenets of sustainability in order to achieve lifelong landscape designs that are holistically sound.
Tenet #1: Leave Nature Alone
Mature trees can be gravely affected by construction, losing their vitality and dying over a period of four or five years. Because this process is so slow, many don't realize just how fragile trees are. Simple practices like laying down six inches of mulch and defining traffic pathways can save the lives of trees.
Tenet #2: Restore the Balance of Nature
Everything we do and build has an impact on the environment. Even the smallest of acts can have a massive ripple effect that negatively effects an ecosystem. Creating healthy soil layers with organic components for gardens and planting baby trees can help to prevent erosion, preserve habitats, and rebuild damaged ecosystems.
Tenet #3: Sculpt Your Niche Using Sustainable Building Materials
When designing and constructing a landscape, the materials you use can be just as harmful to the environment as construction. Natural gravel driveway is a green alternative to asphalt, which has a high carbon footprint. As opposed to concrete, previous paving options prevent stormwater runoff.
Tenet #4: Harvest & Conserve Water
Think of your property as its own watershed, which can be harvested to meet all of your water needs. Cisterns and temporary storage systems such as rain barrels, rain gardens, underground tanks, pumps, and irrigation systems can all be employed to gather your own water.
Tenet #5: Let Nature Rest
Harsh, bright lights glaring night after night can slowly damage vegetation. Make an effort to use minimal low lighting. This will not only be better for your garden but will create a nice, warm,  glowing ambiance.
Tenet #6: Keep Up the Good Work
The work doesn't end once the garden is built. Keep up with mowing, chopping, composting, mulching and spreading. Learn about organic pest control practices. Create a calendar and set up a system for disciplined nurturing.
At Dargan Landscape Architects, we're eager to assist our clients with their landscape designs and dreams. For further assistance and information, contact us today.