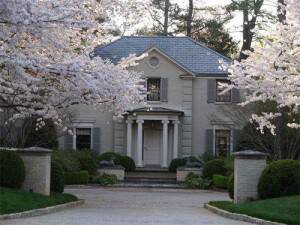 A seamless landscape design ensures beautiful and comfortable experiences for your household members and any visitors to your property. This type of design is not only aesthetically pleasing but is intuitive for easy and safe navigation.
Approach & Arrival Sequence: Usually at the front of your property, it's the welcome mat you put out for your friends and family. A thoughtful approach and arrival sequence seamlessly shows visitors how they can enter your property and where they can park cars. It also leads them gracefully to the landing of your front door where they can be greeted. And finally, it may also include starting points for garden experiences or pathways to outdoor rooms. This is where sustainable building materials can be employed such as gravel and other permeable pavers.
Hub: The middle portion of your property, known as the hub, is – of course – the house. It's the epicenter around which all parts of your property revolve. The style of the house often inspires and dictates the aesthetics and layout of the landscape. Taking cues from the home's colors, textures and architectural details is essential when designing a seamless landscape design.
Perimeter: This part of your property is situated outside, behind or on the sides of the house. It can be designed to be a multi-purpose environment for relaxing in and entertaining. It can include a sun pocket, an outdoor kitchen, an outdoor dining area or an expansive lawn. An outdoor social environment should be safe and accessible for both people and pets.
Passages & Destinations: These are the pathways and gardens of the property. The passages are the steps and walkways that allow us to get to and from different garden areas. The destinations can be a koi pond, a fountain, a bench beneath a willow tree or a series of garden statues.
Whether you are looking to add onto your landscape, make it more sustainable or give it a whole new look and feel with a complete renovation, our experienced and passionate team here at Dargan Landscape Architects would love to help. Contact us to learn about our landscaping services.