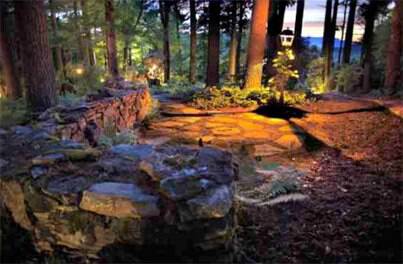 Living close to water is an idyllic lifestyle that many people only dream of, however, it does come with a certain amount of responsibility to protect the wildlife that makes the coast its home. Ample lighting to enjoy your property and gardens in the evenings is necessary for your comfort, but there are often restrictions when living on the coast. We have some tips about landscape lighting for coastal gardens that will appease all affected.
Whenever possible, use motion sensors to control lighting that is designed for safety. Well-lit pathways to garden or seating areas near the beach are an example of such lighting. Not only will you be helping to protect the wildlife environment, you will realize energy savings with such areas lit up only when in use.
Spot lights and roof-mounted lights are particularly dangerous for coastal wildlife. Since they cast light into the trees and onto the shoreline, they can put animal habitats at risk and confuse newly-born wildlife such as sea turtles. If used at all, spotlights should be prevented from reflecting light towards the sky and should be angled at no greater than 90 degrees.
There are many subtle options when it comes to landscape lighting for coastal gardens. Recessed lighting can be used to cast soft light in covered areas, deck flooring, and stair treads. New LED styles include rope lights that let you get creative. Consider using them to outline garden areas, furniture, or other outdoor features for an interesting look.
At Dargan Landscape Architects, we understand the balance between ample lighting for your night-time enjoyment and wildlife protection when designing landscape lighting for coastal gardens. As licensed and storied landscape architects, we can help perfect your oasis. Contact us to discuss your plans today.