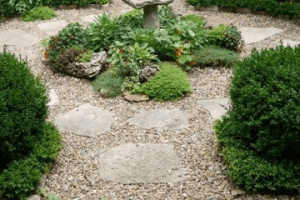 When you think of a floor, chances are good you do not immediately think of your garden. By its very definition, however, a floor is a surface that is walked on. With that in mind, choosing the proper flooring for your gardens and their walkways is very important for both the function and overall appeal of your garden. Utilizing soft materials for garden floors can add to a tranquil setting and not take away too much attention from the work you have put into design and planting.
The first thing to determine is whether your garden is casual or formal. A general rule of thumb is to use loose materials for casual spaces and more structured materials for formal areas. The exception to that general rule would be maintenance. If you have many trees dropping leaves and seed pods onto your garden floor, loose materials can be difficult to keep clean-looking. The following are some ideas for utilizing soft materials for garden floors:
Flat pea gravel is a popular choice for both casual and formal spaces because of its compact size and versatility. It can be used for many applications such as walkways with edging, seating areas, and as filler between larger stone elements such as flagstone. Be careful not to put In too deep; we used a crusher run base of 3" and a 1" topping of gravel on the surface.

River rock is large stones that have been worn smooth from tumbling in a river. A natural-looking product, river rock can direct drainage and create dry creek beds for focal points. The stones can be difficult to walk on, so you may use them to edge a garden path rather than create main pathways.

Crushed granite can be used in both formal and casual gardens to create garden floors or pathways. The crushed stone is not smooth like pea gravel, however, the natural coloring blends well with most landscapes. It needs an edging of brick, metal or river rocks to hold it in place.

Soft-looking, smooth and fairly uniform in color, Mexican beach pebbles are a sophisticated choice for lining beds, walkways, and creating a zen-like atmosphere.
Let Dargan Landscape Architects design a master plan for your garden. View our past designs and contact us to learn more.