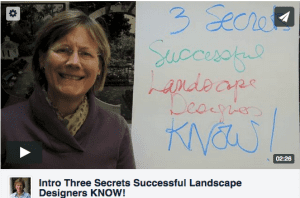 Does your garden need a tune-up? Would you like to learn landscape design tips from a master with 40 years in the landscape design trenches? When the APLD contacted me about offering this workshop, it presented the perfect opportunity to share how to  avoid the common landscape design mistakes and pitfalls. We'll be taking our experiences with us on the road for a presentation at the APLDWA Annual Design Symposium.
Join Dargan Landscape Architectects at the APLDWA Annual Design Symposium in Seattle ( open to both homeowners and landscape designers)
On January 26th, Mary Palmer Dargan and her life/ business partner, Hugh Dargan, will host a presentation, lecture, and  a landscape design workshop intensive at the Center for Urban Horticulture in Seattle, Washington. The event is designed to help landscape professionals ( and landscape designing homeowners) avoid the common pitfalls that lead to "embarrassingly dysfunctional, over-budget & unsustainable client projects."
The three secrets they'll share are designed to help attendees design landscapes that are, in the words of ancient Roman author, architect, and civil engineer, Vitruvius, "firmitas, utilitas, venustas." That's, "solid, useful, beautiful," for those of you who aren't up on your Latin. These three secrets involve:
Applying the tenets of a four-part master plan, so the project is not only aesthetically pleasing but is functional such that its purpose will be realized year after year.

Implementing an innovative system of "layers," which will help you organize and utilize site improvements.

Using lifelong landscape design principles to create and guide a sustainable philosophy.
Registrants will receive a workbook (register early as we can't guarantee workbooks for late-registrants) and are encouraged to bring paper copies of a survey at 1/8-inch of front or rear of project, an aerial photograph (Google Earth is great for those) and three photographs at letter size.
The cost is $150 for members, $200 for non-members, and $100 for students. The cost includes the workbook and an on-site lunch. Late registration (after 1/12/2015) is $250. Online registration will open soon at www.apldwa.org/events-and-news. You can also contact us here at Dargan for more information.