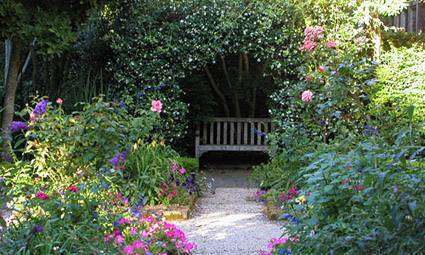 As a career landscape architect and gardener, I'm very aware of the positive effects a landscape has on its owners. Your beautifully landscaped outdoor areas may be the only space to escape the trials and tribulations of daily life, as you breathe oxygen-rich air, surrounded by beautiful growing, living things.
Enhance the Holistic Benefits of Your Landscape by Blending Design and Shape into Outdoor Seating Areas
One of the best ways to reap the holistic benefits of your landscape is to add seating areas where you and guests can take a moment to comfortably soak up Mother Nature's splendor.
Rather than plopping a few chairs or lounges down, I recommend integrating your seating areas by blending both their design and the shape into your existing landscape. Here are some examples of how to do so.
Use boundaries. Timeless cottage gardens have always used boundaries, both hardscape and natural, in order to define different landscape areas, whether they be winding walkways, raised kitchen gardens, or – yes – various seating areas. Larger spaces may be bordered using existing architectural walls or fences. If you are planning on creating a smaller or more intimate seating area, use a trellis, shrubs, or a small section of fencing to create a bit of privacy.
Consider circular or rounded additions. A rounded or circular shape can facilitate the flow of conversation in a particular seating area, as well as its aesthetics. Your rounded or curved seating area will also make a nice change if the majority of your landscape is portioned out in square or rectangular patterns. The addition of an arch or a trellis can also add the curved juxtaposition you're looking for while serving as a focalization tool, guiding the eye to carefully proportioned and positioned table and chairs.
Use attractive flooring materials. Enhance your seating area's design by using attractive flooring materials, like natural stone squares or pavers, that can be used in different colors and patterns, augmenting their visual appeal.
Blending design and shape into outdoor seating areas will make them as pleasant to the eye as they are to the soul.
Contact Dargan Landscape Architects to help you enhance your outdoor areas.