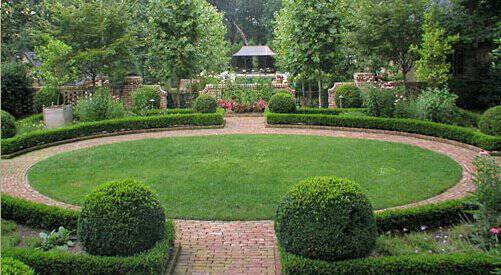 When Mary Palmer and Hugh Dargan sit down with clients, the first item of business is to establish how the client sees their landscape in relationship to their lifestyle. This helps us to design outdoor spaces that meet present needs and also look to the future, so we hold a vision of "The Whole" in mind, even as we work feature-by-feature and part-by-part. This is Lifelong Landscape Design for the individual family.
When it comes to your personal landscape, you want to create a design that contours, adorns, and facilitates your current lifestyle as well as your households' future evolution. But, we can take that one step – or several steps – further and evaluate how lifelong landscape design principles can be incorporated on a larger scale.
Lifelong Landscape Design Creates Well-Rooted Environments for the Community
Imagine what your community would look like if everyone was on the Lifelong Landscape Design train. We imagine it would look a little like this:
Every home would have some form of a kitchen, herb or vegetable garden, and neighbors might even collaborate to organize who grows what so everyone benefits.

Composting, chemical-free gardening, and water recycling, or water harvesting, would be the norm.

Landscape designs – and urban design, for that matter – would encompass hardscape and landscape features that appeal to people of all ages and encourage pedestrian- and bike-friendly transit.
You can hear Mary Palmer Dargan speak in greater detail about lifelong landscape design and community by watching her presentation at the 2014 MidSouth Regional Master Gardener's Conference. Some of the highlights include:
Creating a more tranquil existence. When you garden from a healing perspective, you will create a more tranquil existence for yourself and those around you, free of stress, negative energy, and even illness.
Conserving resources. Your landscape design can optimize both shade and sun exposure, as well as water-conservative and native plants that are more suited to the climate, to help your community conserve its precious resources.
Using a Four-Part Master Plan. Whether you're designing a home landscape or a larger community's, honoring the Four-Part Master Plan will always serve you well.
Are you looking for landscape architects in Metro Atlanta who use lifelong landscape design principles? Contact Dargan Landscape Architects, and create nourishing landscapes that will continue to sustain you and the community at large for years to come.