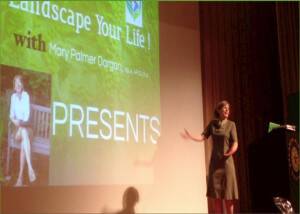 While aesthetics are a large part of the landscape design equation, we always make sure to emphasize the synergistic effects of well-designed outdoor spaces. Looks aren't everything; creating the oasis of your dreams is just as much about positively impacting your health and longevity – as well as the planet's.
Mary Palmer's Rutgers University Lecture: Create an Oasis That Facilitates Health & Longevity
Fortunately for gardeners – both novices and experts – in the New Brunswick, New Jersey area, Mary Palmer Dargan, of Dargan Landscape Architects, is presenting a lecture titled, Timeless Landscape Design: The Top Four Secrets to Breaking the Genetic Code on your Property to Create the Oasis of Your Dreams.
When:  Wednesday, December 3, 2014 at 6 p.m.
Where: Rutgers University, Cook Student Center Meeting Room B/C
Audience members will have the opportunity to listen career landscape architect Mary Palmer as she outlines the Four Secrets to creating a landscape that aspires to your visions while simultaneously working to enhance your life as well as your local community and beyond.
Many of the topics she will be covering are pulled from her top selling book, Timeless Landscape Design. After her presentation, Mary Palmer will be available for a special book signing, creating a perfect opportunity to purchase a lifelong resource for the avid gardeners and landscapers on your gift list.
Some of the topics covered in the presentation include the four-part master plan used to create gardens and landscapes. Together, they provide visual, mental, and emotional pleasure for generations to come and include:
The Approach and Arrival Sequence

The Hub

The Perimeter

Passages to Destinations
Careful consideration of the above results in a proportional and soothing landscape, rather than a hodge-podge of parts that don't quite integrate to comprise a whole.
Of course, a critical component of breaking your own landscapes "genetic code" is to use healthy landscape and gardening techniques that replenish and nourish the soil, water, and air that will keep the code healthy for decades to come.
To learn more about Mary Palmer's Rutgers University Lecture, contact Dargan Landscape Architects or Katja Patchowsky at [email protected].