As mentioned in previous posts, our four-part master plan is the foundation we use for creating timeless landscapes. The four components of the master plan include the approach and arrival sequence; the hub; the perimeter; and passages to destinations. When each part is thoughtfully approached, a memorable landscape is the end result.
Last month, we placed our attention on the approach and arrival sequence, and now we're turning our focus to the hub portion of the four-part master plan of landscape design. Focusing on the hub helps build the visual connection in your landscape design. The hub is the main feature of your property, usually your home, as well as where the most activity originates. It is also one of the first things you notice when you approach your property.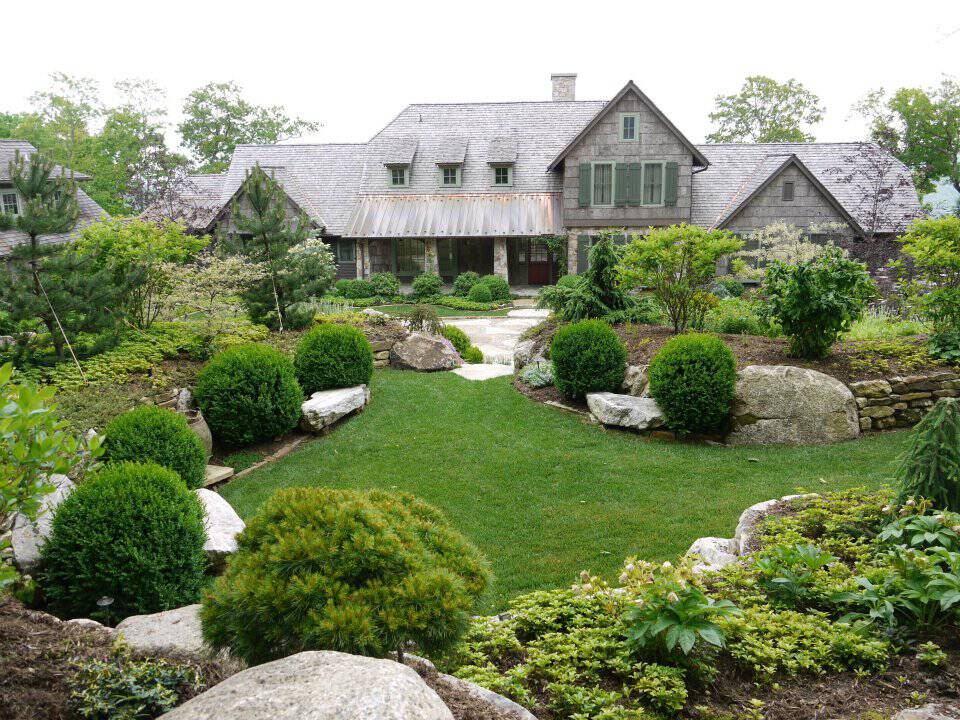 Optimizing the hub involves strengthening the connection between your home and its surrounding landscape, making the transition appear seamless. There are two major elements to consider when creating the perfect fit: hub identity and architectural composure and vistas and captured views. Hub identity and architectural composure addresses the environment and topography of the site, as well as the architectural style, size and mass of the house.
Hub identity involves the placement of the house on the site and how it's situated on your property. Architectural composure refers to the style and size of the home, which is related to its placement on the site. Both of these factors should be considered when selecting plantings, trees, flowers, hardscapes and other landscaping elements for your home and property. For example, large scale plantings should be selected for grand homes.
Vistas and captured views also should be created and improved in your landscape. Vistas are scenic or panoramic views seen through a long, narrow opening between trees or buildings. Captured views refer to how your landscape looks from the windows and doors of your home. This can help build the connection between indoors and outdoors.
We'll delve into the topics of hub identity and architectural composure and vistas and captured views later this month, so stay tuned for more information. You can also order Mary Palmer's book "Timeless Landscape Design" for more information about building the visual connection in your landscape and the role of the hub in the four-part master plan.
If you're ready to speak with a landscape architect about creating a four-part master plan for your own landscape, contact Dargan Landscape Architects.