We're celebrating 40 years in landscape design!  Join us for a special garden design event in Charleston, SC…Come take YOUR garden to school!
Principles of Design :  #1 Axial Design  and #2 Focalization
Great garde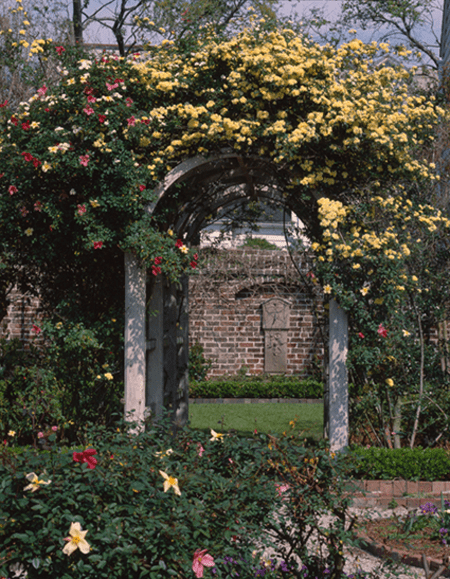 ns have a secret language. Their hidden underpinnings are design principles. This lexicon is critical to your success as a designer. With these words, you can describe why a garden visually works.
1. Axial Relationships. An axis is simply a straight line, like a path or an alley of trees, extending from a starting point to an ending point that's usually punctuated with a visual element such as a building or fountain at the end. Intersecting the line with another one, at right angles, produces cross-axial design. Few other visual techniques produce such a strong grip on the landscape. With this elegantly simple device, many wildernesses have been tamed and many gardens given their structural bones.
Cross-axial design created the shape of the cloister garden in medieval monasteries. A walled space was divided into four sections by two intersecting paths. A fountain, well, basin or tree was usually placed at the center point, or node, where the two paths crossed; in the four resulting planting beds, the monks tended fruit trees, herbs and flowers.
Beginning in the seventeenth century in Europe and England, four planting beds—or the four-square form—created by the intersection of two paths became the standard plan for kitchen gardens. Its application continues to this day, and we often find a place for it in landscape designs in a variety of settings.
Both axial and cross-axial designs suggest rationality and spatial discipline. When used within a small walled space, such as the cloister or kitchen garden, they create a calmly ordered and balanced environment. When let loose on a very grand scale, axial and cross-axial designs become extremely powerful psychologically because they seem to dominate nature. In the seventeenth century, for example, axial design structured vast properties that underscored the power of their owners; the longer and straighter the lines, the greater the sense of domination, power and authority. The gardens created for Louis XIV at Versailles are the ultimate example.
In addition to making a small space crisp and thus visually larger, axial design can divert attention away from an unattractive area on a property by whisking the eye toward a visual element such as an arch or arbor placed somewhere else, along an axis, or at its end point. While, for example, a jungle gym may be peripherally in sight, its impact is considerably lessened when a strong axial statement is taking place somewhere in the opposite direction.
Formality often implies axial and cross-axial design; therefore, in the vast majority of cases, paths in a formal flower garden are predominantly straight lines. Cross-axial designs are used to create parterres for flower gardens and kitchen gardens on properties of all styles and sizes. The four-square form is one of the most beautiful and enduring of all landscape designs. Variations on this form abound through the crafting of differently shaped beds; they don't have to be rectangular or square.
Focalization. Focalization is a technique for making order out of chaos by providing a focal point that funnels the viewer's sight line where you want it to go. A statue, pergola or garden gate can each be used to create a strong focus. Something as simple as an urn or birdbath in direct line with the back door is elemental focalization. An entire composition can be created around it.
Focalization also implies using a framing device, such as a rounded arch, to isolate and emphasize a particular sight line or view. This technique has been used masterfully by architects and landscape architects from time immemorial.
Focalization is almost always an ingredient in axial and cross-axial design. An "exclamation point" such as a statue, urn or tree at the end of an axis becomes a focal point that draws the eye.
In small spaces, we sometimes increase the illusion of space by making things seem smaller or closer together as they near the focal point, mimicking the effect of visual perspective and the way things get smaller as they go into the distance. This can be used effectively in small courtyard gardens in which a wall provides the backdrop for a focal point such as a piece of sculpture or a fountain, and the entire composition is organized around that.
Join us in Charleston, February 25-27, 2013 as we share the recipes for these timeless outdoor rooms.
In honor of Dargan Landscape Architects 40th Anniversary in 2013, Elements of Outdoor Rooms, harkens to our early design practice in Charleston, SC. Full time for decades and continuing on today, we've tested art elements & client needs on the canvas of this historic city. Dargan archives at the South Carolina Historical Society house hundreds of our courtyard and outdoor room designs, many of which exist today and hold lifestyle tools useful to properties anywhere.