The Boundless Gardener
Mini Gardens & Railroad Gardens

I discovered miniature gardens rather late in life… followed on the heels by model railroads.
Barnyard animals, adorable houses, garden fencing, forest friends…they all look and act right when the scale is correct. Dovecote's are sort of HO scale, most popular for model railroads.
Nobody wants a jack-in-the-beanstalk or Lilliputians living in the wrong sized home! Click here to see our products.
Porch & Garden Furnishings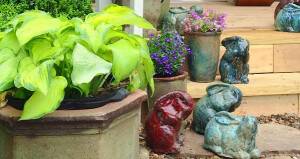 Are pots, vases, mossed planters and custom, classic furniture your bag?
Our inventory is change-a-plenty, and stock is limited.
Our pots are freeze proof, or at least freeze resistant if perched on little feet, and hearty, earth tone colors with a lot of style.
Handcrafted Bitters

As a botanist, I love plants with taste and taste good, well at least good enough to drink!
Bitters are cocktail flavorings that rock. You can also imbibe them as health tonics.
I promise not to sell snake oil, but Chinese tonic herbalism is in my bag of tricks. Check back later to see our products.
Enjoy this video while we make some more delicious bitters!
Dovecote Porch & Gardens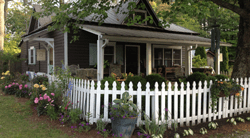 Oh where, oh where has my dovecote gone?
Well, we found ours in Cashiers, NC next to Cornucopia Resturant just a half mile from the crossroads. Yes, it is ever-changing!…We have show-stopping floral displays, public gardens, funny outdoor display areas, an honesty box (we are not always here) and sculpture by Carl Peverall.
Our Garden Talk Salons take place here in the summer and there is always something fun to do. Click here for more information about Dovecote.