Cookin' on the Wild Side is here and live tomorrow, July 8 at 10 am.
Watch from your facebook page !
Dovecote Porch & Gardens in Cashiers NC is hosting. Friend Dovecote's page and join us for the informative demonstration!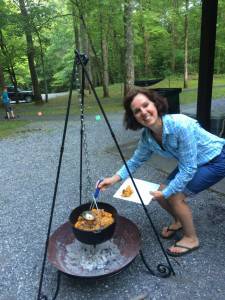 Wild Cooking? What is this?  
Also known as Wildcrafting, it means you use locally sourced and harvested elements from nature in your meal preparation. It might be elderflowers for a frisky drink, or sour grapes to perk up your palette!
This summer our Garden Talk Salon theme is Nature's Kitchen.

Food has never tasted so good. In the Smokies in early June, we practiced several dishes on a camping trip. Roast Duck, Ramp cornbread, Allspice butternut squash. Ila Hatter, our lady of the woods, also shared her secrets of chestnut bread and elderflower fritters, plus grape vine wrapped trout. Donna Oliver, from Virginia, brought her family to sample the fare!
Our demonstration will be over open flame using cast iron cookware. Only room for a very small group of cooking enthusiasts since I'm trying new dishes!
On August 30, Ila Hatter will speak at the Village Green on Mother Nature's Secret Kitchen, and we are sponsoring the foraging tasting which follows her lecture.
To save your spot Please click here to join us at Wild Cooking : Main Dishes on July 8 at 10 am