His feet literally lifted on the ground and Carl Peverall was hanging in the sky. What do I mean? Check out this video where the artistic master shows us how 'Evolution' was born.
If you're in the area of looking for a place to visit, check out our home in Cashiers, NC. You can stroll through our gardens, check out our accessories and by all means, sit on our front porch for a little R&R.
We will have Carl Peverall's sculpture stone sculpture exhibition on our property through August.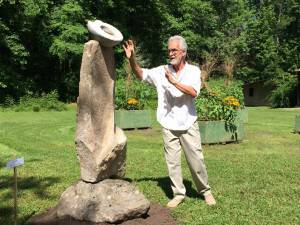 We've also got the full playlist so you can enjoy all the Carl Peverall videos we created at one time. Enjoy!