Right On, Mother Earth News Fair.  From planetary awareness in 1970's, to being the most hip and cool thing in sustainable home environments today, you rock!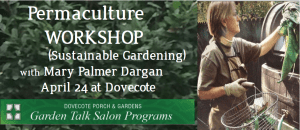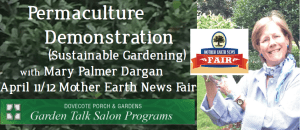 This weekend, 18-20,000 showed up in Asheville NC for 2 days of back-to-back lectures about sustainable living and all its components: permaculture/sustainable gardening, housing alternatives, energy efficient cars and really, really good food.
Last year chickens were hot, this year worms, and next year goats are predicted to rock the charts.
I remember when Mother Earth news debuted and mesmerized a particular granola-eating, intellectual, alternative lifestyle '70s student. (That would be me). The hip and cool, bi-monthly magazine took me by the hand into the realm of renewable energy, clean water, clean air, sprouting, homemade bread, environmental awareness and women's rights. I learned I could have my cake and eat it too; and thanks to Mother Earth News, that cake would be organic!
Yes, I think retiring boomers are shaping the sustainable gardening/permaculture movement in America. Does this matter to you? If so, read on.
Permaculture for home environments is gardening in concert with nature. It involves site planning with an eye to the future while resting lightly on the land today.
So, when I received an invitation to do a permaculture demonstration at the Mother Earth News fair this weekend in Asheville North Carolina, I raised my fist and said, "Yeah baby, right on!"  At The Mother Earth News Fair, my lovely booth was soon surrounded by baby boomers of all shapes and sizes, sexes and hairstyles, outfits, smiles and notepads… They had actually done their homework before coming to the demonstration.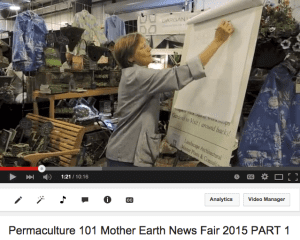 How do you do this permaculture thing and how does it relate to the regular joe?
So what is Permaculture? It is a large topic weighing-in on the health of our small planet. Without a doubt, sustainable gardening, a component of permaculture, will improve your home environment, your health and happiness.
Did you know your home environment can support your lifestyle and nourish you, so you can flourish to meet your highest and best goals in life? I didn't.
As a seasoned landscape architect, I invite my clients to make a program of their needs and describe their lifestyle. As much as I hope to grow them into fully empowered, sustainable gardening homeowners, it will not be everybody's bag.
The best-practice sustainable gardeners tend to be the baby boomers on the cusp or fully retired. 85% of my clients are truly interested. They think it would be good for them to embrace sustainable gardening and be outside more, but don't:
have the time in their busy lifestyles
know which end of a seed to plant
have a clue how to organize their properties to be nimble and efficient sustainable gardens
know where to start
In 3 hours, we'll study lifelong landscape design, define your personal permaculture program elements, define available space for improvements on your property and solve functional problems.