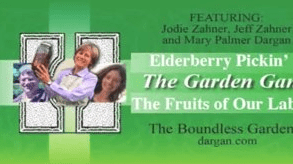 One of our goals here at Dargan Landscape Architects is to heal the planet one garden at a time. In practice, this is an overarching goal as we work to create sustainable landscapes that do more good than harm for our communities and planet-at-large. However, the same plants you use to heal the earth can also be used to heal yourself.
Are You Familiar With the Health Benefits of Elderberries?
Mother Nature has provided free healthcare and remedies via her plants' roots, stems, leaves, flowers, and plants. Until recently, medicinal gardens were a staple of any home landscape and slowly but surely, the pendulum is swinging back to nature (literally!) as people learn the health benefits of the plants and herbs growing in their gardens. Today, I'm going to talk to you about the health benefits of elderberries, the fruit of an easy-to-grow shrub that is also an aesthetically pleasing addition to your landscape species roster.
Elderberries are the products of a common North American shrub that goes by many names, including elderberry trees, golden elder flower trees, black elderberry or North American elderberry. The berries grow in clusters (although the birds can diminish a cluster in no time leaving only the occasional berry here and there!), and proper treatment of these berries, including the making of teas, bitters, tinctures and even wines and cordials all yield healing benefits.
Elderberry has been used medicinally for hundreds of years. The berries contain high levels of Vitamin C as well as antioxidants. Bioflavonoids and unique proteins lend elderberries antiviral properties as well. The healing benefits of elderberry compounds include:
Lower cholesterol
Enhanced immune system function
Improved vision
Protection against both bacteria and viruses, providing relief from colds, flus and tonsillitis.
Mild laxative properties
Diuretic properties
Improved heart health
In some families, elderberry is still the primary go-to source for relief of the first signs of a flu or bug. Check out our video on how to harvest elderberries. Keep posted for more information on how to make tasty elderberry bitters and wines or contact Dargan Landscapes to learn more.