Have you wanted to plant or design a romantic garden for your home? If so, mark your calendar for Friday, November 14th, so you do not miss Hugh and Mary Palmer Dargan's lecture at Magnolia Plantation and Gardens, located at 3550 Ashley River Road in Charleston. For the general admission adult price of only $15.00, you can attend the lecture in Magnolia's Orientation Theatre and enjoy the gardens afterwards with a new perspective.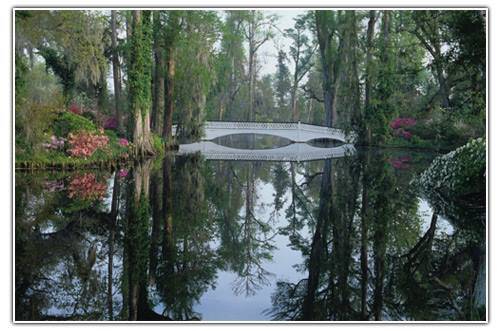 Source: Dargan Landscape Architects via Facebook
The lecture will explore romantic-style gardening and its influence. Magnolia Plantation and Gardens provides a perfect location for such an event as it is the last large-scale romantic garden in America. As a licensed and vastly experienced landscape architect, Mary Palmer will share the knowledge she has gained from extensive travels both home and abroad, and how they played a part in her romantic garden designs. 
Having designed many beautiful romantic gardens in Charleston and other areas in North Carolina and Georgia, Mary Palmer will discuss how a romantic garden differs from a formal garden. She will also share tips on how to create a romantic garden within your own landscape. Mary Palmer believes, "A romantic garden provides the perfect canvas for creative thought and inspiration to solace your soul." Not only will you learn the fundamental elements to this style of gardening, you are guaranteed to find some inspiration in Mary Palmer's words.
Steeped in history, Magnolia Plantation has been family-owned for more than 300 years. In the late 17th century the gardens were started and during the 18th century their beauty and size expanded exponentially, however, it was not until the 19th century that they took on the grand scale that they maintain today. 
Join Mary Palmer of Dargan Landscape Architects as she details this beautiful, romantic style of gardening and bask in the beauty of the Magnolia Plantation and Gardens.