The answer: a lot of fun!
Look for the Dovecote Porch & Gardens tent – where we'll be showing off our garden accessories and minigardens.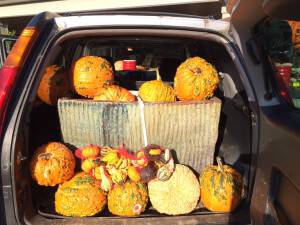 We bought these pumpkins at Jaymoore Farms (next to Walmart). And the friendly folks there gave us a discount because I had a shop and bought so many!
Here's the schedule for events for Oct. 11-12 in Cashiers:
Cashiers Valley Annual Leaf Festival –
Friday, Saturday and Sunday, October 10-12, 2014 – Village Green and Village Green Commons – Cashiers NC  Corner of 107 and 64     10:00am – 5:00pm  Free Admission!
Fine Arts & Crafts | Gourmet Food | Children's Activities
Music on Two Stages, Schedule:
Saturday, Oct 11th
Village Commons Stage
11:00 – 12:30 – Tino Eno (Singer Songwriter)
1:00 – 2:30 – George Reeves and Jay Drummond
3:00 – 4:30 – Shawn James (Singer/Songwriter)
Sat. Oct 11th  Village Green Stage (Gazebo)
11:00 – 12:30 – Julie Gribble (Singer/Songwriter)
1:00 – 2:30 – Moonshine Babies (Americana)
3:00 – 4:30 – David Teague (Singer/Songwriter)
Sunday, Oct 12th
Village Commons Stage
12:30 – 2:00 – Steve Johannessen
Sunday, Oct 12th
Village Green Stage (Gazebo)
12:30 – 2:00 – Buddy Mix
Friday, October 10th, 7pm to 10PM    Dance Party with "Hurricane Creek!"
• Tented Event
• Rain or Shine
• Coolers welcome
• Food and Beverages for purchase
• Bring chairs
• $5.00 Donation at door for entry