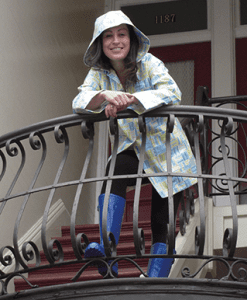 The trunk shows will be on Friday and Saturday from 11 a.m. to 3 p.m. on Oct. 3-4.
Denise Dickens has been working in design and the creative arts for over 25 years. When she started designing women's clothing in 2002, as Outside Designworks™, it was because she found the market lacking stylish designs that were suitable for her.
 "We baby boomers are not going down easily. We need easy silhouettes, but they can't be drab or dowdy. I was always looking for the perfect coat or jacket to go with my favorite pants. Something that had color and style, that could keep me warm, or dry, or covered up when on the beach. I figured that other women must be looking for (and not finding) the same thing too."
The result was Outside Designworks™. It is outerwear cut to flatter a woman's body and created in fabrics that are luxurious yet easy to care for and durable for travel.
Outside Designworks™is a Washington, DC based company that specializes in outerwear for all seasons. The rainwear line is available year round and is designed to be truly waterproof in five different styles. The fall/winter lines are currently made in cashmere and alpaca in the finest and most innovative fibers available. The spring/summer warm weather outerwear is made of pure pima cotton and woven polyester for summer comfort and travel ease.