Dovecote and Dargan Landscape Architects will again share a booth at the Cashiers Leaf Festival. Please join us!
The 2014 Leaf Festival will be held Friday through Sunday, October 10 – 12. The sixth annual arts and crafts festival is held during the peak of the fall colors that grace the Cashiers Valley Plateau each year. Artisans gather along the curving walkway amid gardens of Dahlias and a permanent sculpture collection.
The Greater Cashiers Area Merchants Association (GCAMA) is busy planning for the 2014 sixth annual Leaf Festival, scheduled for Oct. 10-12, at the Village Green and Commons in Cashiers, N.C.
Held each year as the leaves begin to change in this beautiful mountain village nestled at 3,487 feet in elevation, this free event has grown tremendously since its inception in 2009.
This year's festival expects to welcome more than 100 artisans and merchants scattered throughout the Village Green and Commons park, located directly in the center of Cashiers adjacent to the crossroads of Highways 64 and 107.
Visitors will find unique handcrafted wood, pottery, jewelry and much more on display and available for purchase throughout the weekend. There will be plenty of food and drinks available in both parking lots behind the two stages of the park, which will be filled with live music throughout the weekend.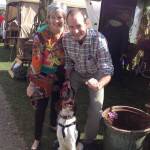 Live music is scheduled from 12 to 5 p.m., on Saturday and Sunday, Oct. 11-12 on two different stages. All of these shows are free and open to the public. Most of these performers are local and regional acts, ranging in genre from singer/songwriters, to jazz, blues, Americana, bluegrass, rock, soul, funk, and much more.
The event will be held from 10 a.m. to 5 p.m., on Friday, Oct. 10, and run from 10 a.m. to 5 p.m., on both Saturday and Sunday, Oct. 11-12.
Event sponsorships, volunteers and vendor opportunities are still available for artisans, merchants, non-profits and more.
For more information about the 2014 GCAMA sixth annual Leaf Festival, visit www.visitcashiersvalley.com, e-mail [email protected], or call828-743-8 28.